MLB: Justin Masterson and Michael Brantley guide Cleveland Indians to victory
Justin Masterson struck out a season-high 11 as the Cleveland Indians overcame the Seattle Mariners.
Last Updated: 20/05/13 6:35am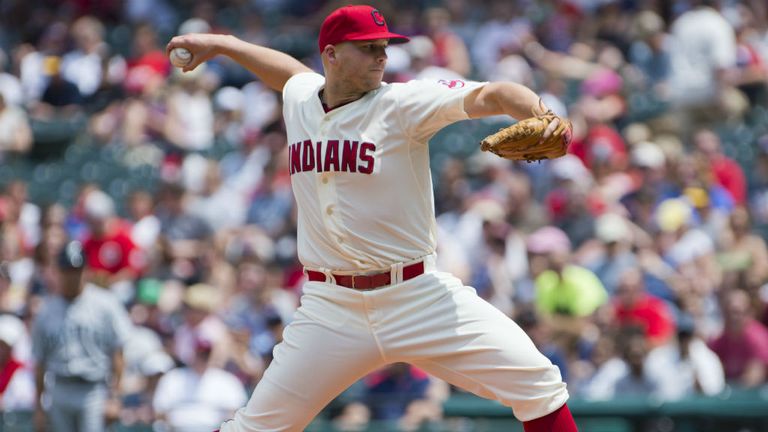 Michael Brantley had four RBI and clubbed a three-run homer in the second inning as the American League Central-leading Indians extended their winning streak to four games.
The Boston Red Sox secured their fifth straight win - and condemned the Minnesota Twins to a fifth consecutive loss - by posting a 5-1 victory at Target Field in a game which featured a three-hour rain delay.
John Lackey gave up one run on one hit over six innings while Dustin Pedroia and Will Middlebrooks had homers to help the Red Sox seal a three-game sweep.
The Tampa Bay Rays were 3-1 winners against Baltimore, Matt Moore limiting the Orioles to one run and striking out three over seven innings.
The AL West-leading Texas Rangers toppled the Detroit Tigers 11-8, the Los Angeles Angels defeated the Chicago White Sox 6-2, the Oakland Athletics edged the Kansas City Royals 4-3. The East-leading New York Yankees' game against the Toronto Blue Jays was postponed due to rain.
In the National League, back-to-back homers from Erik Kratz and Freddy Galvis off closer Aroldis Chapman in the ninth inning handed the Philadelphia Phillies a 3-2 walk-off win against the Cincinnati Reds.
Miami edged the Arizona Diamondbacks 2-1 to snap a seven-game losing streak. Ricky Nolasco struck out 11 over eight innings and Marcell Ozuna delivered the decisive two-run double for the Marlins.
Home runs from Kyle Blanks and Will Venable and 6 2/3 solid innings from Andrew Cashner spurred the San Diego Padres to a 13-4 win over the Washington Nationals, while Daniel Murphy's go-ahead homer in the eighth lifted the New York Mets to a 4-3 success against the Chicago Cubs, and an RBI double from Jon Jay in a four-run fourth inning helped the St Louis Cardinals beat the Milwaukee Brewers 4-2.
The NL East-leading Atlanta Braves saw off the Los Angeles Dodgers 6-2 and the Colorado Rockies overcame the San Francisco Giants 5-0, while the Pittsburgh Pirates squeezed past the Houston Astros 1-0 in their Interleague clash.