MLB: Angel Pagan's walk-off inside-the-park home run seals Giants victory
Angel Pagan hit a two-run walk-off inside-the-park home run as the San Francisco Giants beat the Colorado Rockies.
Last Updated: 26/05/13 8:46am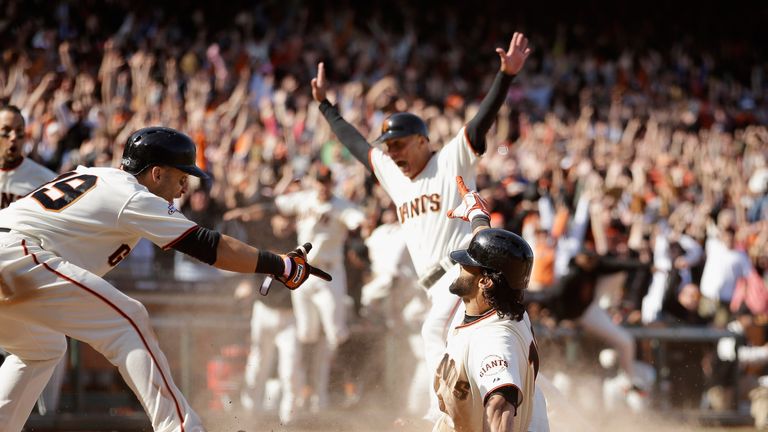 The Rockies moved in front thanks to Troy Tulowitzki's solo shot in the top of the 10th, but Pagan ensured the Giants walked off on an inside-the-park homer for the first time since 1931 by launching one deep to left which bounced off the wall and into space, also scoring Brandon Crawford.
Mike Minor pitched 7 1/3 scoreless innings and cracked his first career home run to provide more than enough offence in the Atlanta Braves' 6-0 win over the New York Mets.
Freddie Freeman drove in two on a pair of hits for the Braves, who had earlier claimed a 7-5 10-inning win in a match which had been suspended at the start of the ninth the previous night because of rain.
Jake Peavy pitched a complete game as the Chicago White Sox claimed a 2-1 walk-off win over the Miami Marlins.
Dustin Pedroia hit a go-ahead RBI double in the eighth as the Boston Red Sox rallied three times to beat the Cleveland Indians 7-4.
Billy Buckner pitched five shutout innings for a win on his Los Angeles Angels debut as home runs from Hank Conger and Josh Hamilton propelled them to a 7-0 victory over the Kansas City Royals.
Yankees win
Lyle Overbay belted a home run in the 11th to lift the New York Yankees to a 4-3 victory over the Tampa Bay Rays.
Danny Valencia and Adam Jones homered as the Baltimore Orioles beat the Toronto Blue Jays 6-5, condemning last year's NL Cy Young Award winner RA Dickey to his sixth defeat of the season.
The Minnesota Twins got three runs on the board in the first inning and held on for their first win in 11, beating the Detroit Tigers 3-2.
Josh Donaldson went four-for-four with a home run two RBIs as the Oakland Athletics beat the Houston Astros 11-5.
Pedro Alvarez had a pair of home runs as the Pittsburgh Pirates beat the Milwaukee Brewers 5-2 and the Cincinnati Reds beat the Chicago Cubs by the same scoreline.
The Philadelphia Phillies beat the Washington Nationals 5-3, the Los Angeles Dodgers were 5-3 winners over the St Louis Cardinals the San Diego Padres saw off the Arizona Diamondbacks 10-4 and the Texas Rangers overcame the Seattle Mariners 5-2.