MLB: Baltimore Orioles move within one game of the AL East lead
Chris Davis hit a 23rd home run as the Baltimore Orioles recorded a 6-3 win against the Boston Red Sox.
Last Updated: 17/06/13 7:17am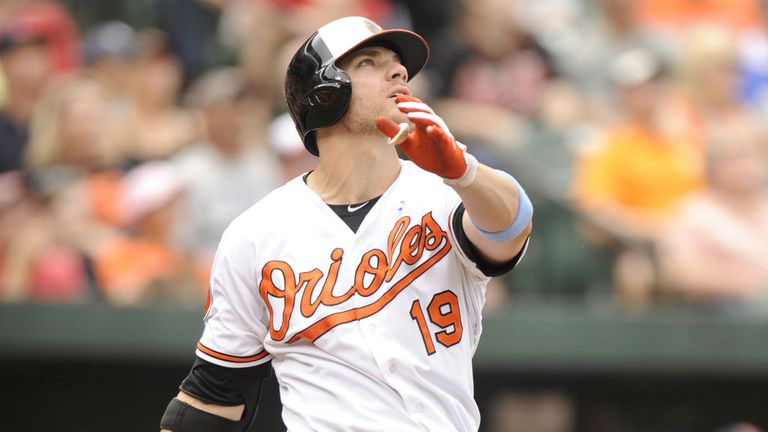 Nick Markakis had four hits and scored three runs for Baltimore and Manny Machado extended his hitting streak to a career-high 14 games and drove in a run.
The Orioles took three of four from first-place Boston to move within one game of the AL East lead.
The New York Yankees defeated Los Angeles 6-5 as Mariano Rivera struck out Albert Pujols with the bases loaded to end the Angels' five-run rally in the ninth inning.
Torii Hunter hit his 300th career home run and Doug Fister held Minnesota hitless until the sixth inning as the Detroit Tigers won 5-2 over the Twins.
The Kansas City Royals beat the Tampa Bay Rays 5-3 as Wade Davis stopped his five-game winless streak and Jeff Francoeur homered.
Jason Castro homered for the second straight game and Matt Dominguez hit a three-run double as the Houston Astros were 5-4 winners against the Chicago White Sox, a fourth straight win.
The Toronto Blue Jays made it a four-game sweep and a fifth straight win with a 7-2 defeat of the Texas Rangers, Chien-Ming Wang winning for the first time in more than a year and Colby Rasmus homering for a third straight game.
Bartolo Colon worked seven strong innings to win his sixth straight decision and Josh Reddick homered and matched a career high with four hits as the Oakland Athletics avoided a sweep with a 10-2 victory over the Seattle Mariners.
The Cleveland Indians beat the Washington Nationals 2-0, while the New York Mets salvaged a 4-3 win over the Chicago Cubs.
The Cincinnati Reds won 5-1 over the Milwaukee Brewers, while the Miami Marlins beat the St Louis Cardinals 7-2 to take the rubber game of the three-match series.
The Pittsburgh Pirates recorded a 6-3 win over the Los Angeles Dodgers, the Colorado Rockies were 5-2 victors against the Philadelphia Phillies, the San Diego Padres registered sixth straight victory with a 4-1 win over the Arizona Diamondbacks and the Atlanta Braves beat the San Francisco Giants 3-0.