MLB: Boston Red Sox move four games clear at the top of American League East
Shane Victorino cracked a two-run single in the 11th innings to seal victory for the Red Sox over the Blue Jays.
Last Updated: 14/08/13 8:21am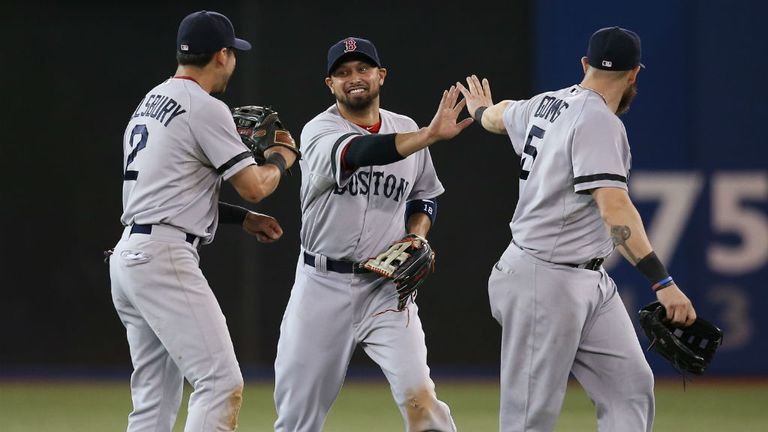 Victorino plated Jarrod Saltalamacchia and Jacoby Ellsbury with the hit to seal the win for the Red Sox - sending them four games clear of the Tampa Bay Rays at the top of the American League East - after JP Arencibia had homered in the eighth to send the game into extras.
Ellsbury and Dustin Pedroia had driven in a run apiece in the seventh to cancel out Arencibia's RBI single in the fifth.
The Rays slipped to a 5-4 defeat against the Seattle Mariners thanks to two home runs from rookie shortstop Brad Miller.
Alfonso Soriano belted two homers and drove in six runs to lift the New York Yankees to a 14-7 win over the Los Angeles Angels.
Soriano had three of the Yankees' 19 hits, also scoring three times, while Vernon Wells also went yard. Mark Trumbo and Mike Trout homered for the Angels.
Kris Medlen hurled seven innings of one run ball and also drove in the game's first run as the Atlanta Braves beat the Philadelphia Phillies 3-1.
Medlen, who scattered five hits and fanned five, retired 15 straight at one point and received support in the form of a two-run shot from Chris Johnson in the third.
Christian Yelich plated the only run of the game in the 10th inning as the Miami Marlins beat the Kansas City Royals 1-0.
Jose Fernandez for the Marlins and the Royals' Bruce Chen each threw seven scoreless innings.
Paul Goldschmidt crushed home run to lead off the bottom of the 11th as the Arizona Diamondbacks walked off with a 4-3 win over the Baltimore Orioles.
Chris Davis had earlier hit his Major League-leading 44th long ball for the Orioles.
Shin-Soo Choo hit a two-run single to give the Cincinnati Reds a 6-4, 11-inning win over the Chicago Cubs.
Alejandro De Aza's RBI single in the 11th gave the Chicago White Sox a 4-3 walk-off win over the Detroit Tigers.
Scooter Gennett had a pair of long balls in the Milwaukee Brewers' 5-1 victory over the Texas Rangers.
Adam LaRoche's two-run homer lifted the Washington Nationals to a 5-2 win over the San Francisco Giants, while Adam Chambers drove in Jon Jay in the 14th inning to give the St Louis Cardinals a 4-3 win over the Pittsburgh Pirates.
The Cleveland Indians beat the Minnesota Twins 5-2, the San Diego Padres were 7-5 winners over the Colorado Rockies, the Los Angeles Dodgers overcame the New York Mets 4-2 and the Houston Astros held on for a 5-4 win over the Oakland Athletics.