MLB: Tampa Bay Rays hit four homers in 7-2 win against New York Yankees
Tampa Bay landed a decisive punch over the New York Yankees thanks to a 7-2 victory in the Eastern division.
Last Updated: 24/08/13 12:17pm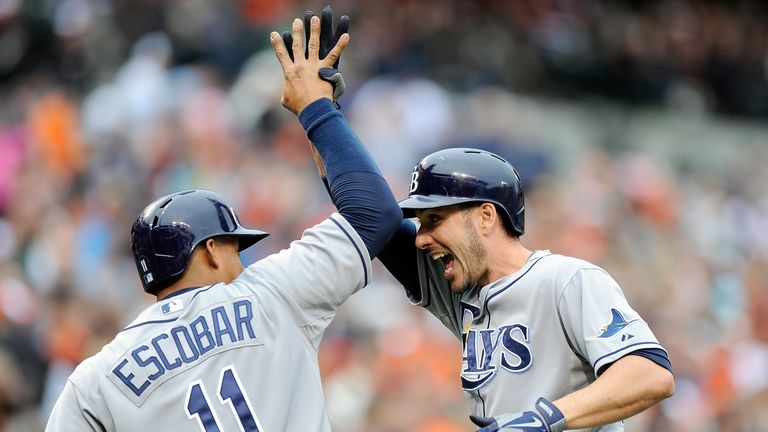 The Yankees entered the game as one of baseball's hottest teams, winning 10 of their last 12 games to move within three and a half games of the Rays and a wild-card slot.
But the Rays had also been playing well, winning six of their last eight after going winless on a six-game West Coast trip.
Matt Joyce and Kelly Johnson singled and with two outs Jose Lobaton jumped on the first pitch he saw and launched a three-run shot to right in the second innings.
The long ball barrage continued in the third inning with Evan Longoria and Joyce going back-to-back with two outs. Ben Zobrist joined the home-run parade in the fifth with the Rays fourth homer of the night.
The Detroit Tigers' potent bats gave Japanese pitcher Daisuke Matsuzaka a rude welcome on his return to MLB with the New York Mets.
Matsuzaka, who helped the Boston Red Sox win the 2007 World Series, gave up five runs on six hits with one walk through five innings in his first start for the Mets, who signed him on Thursday to bolster an injury-depleted pitching rotation.
Austin Jackson, Torii Hunter and Miguel Cabrera each hit a home run as the Tigers beat the Mets 6-1 in front of 37,023 at Citi Field.
"I was a little bit more nervous than I expected to be," said Matsuzaka, who made 11 starts for the Red Sox last season after recovering from elbow surgery in 2011.
"Unfortunately, the first two innings decided the game, so it wasn't how I wanted it to go."
The American League East-leading Boston Red Sox could not stop the Los Angeles Dodgers on a picturesque night in Tinseltown.
Back home after winning five of seven games on a short trip east, the Dodgers got another productive night from starter Ricky Nolasco and one big blast from Hanley Ramirez to beat the Red Sox 2-0 at Dodger Stadium for their fifth straight victory.
They are 19-3 in August and 29-5 since the All-Star break.