MLB: Allen Craig inspires the St Louis Cardinals
Allen Craig registered his first career grand slam as the St Louis Cardinals rallied to beat the Cincinnati Reds.
Last Updated: 27/08/13 9:28am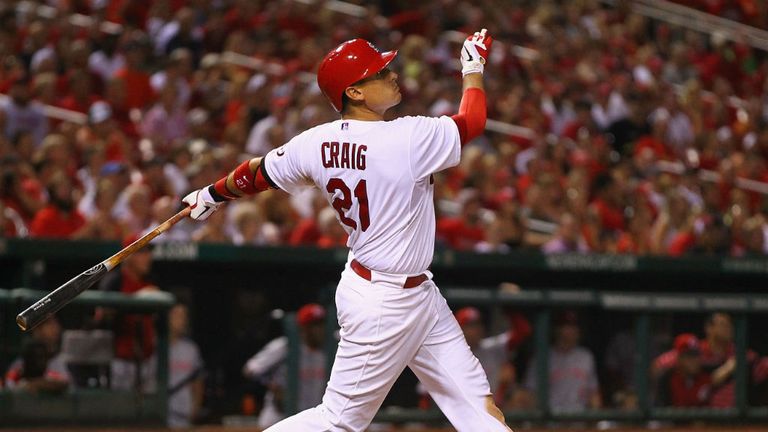 The Reds went 4-0 ahead in the second on a pair of two-run triples from Zack Cozart and Todd Frazier before Matt Holliday's three-run homer in the third brought the Cards within one.
Cozart's RBI double in the sixth stretched Cincinnati's lead, but Craig intervened to give the Cardinals a win which earned them sole possession of the lead in the National League Central.
Coco Crisp had three hits including his 100th career homer as the Oakland Athletics beat the Detroit Tigers 8-6.
Crisp also snared a highlight-reel catch, while Daric Barton drove in a pair on two hits.
RA Dickey fanned six in 6 1/3 innings to lift the Toronto Blue Jays to a 5-2 win over the New York Yankees.
Dickey scattered six hits and walked three, allowing two runs, one of which - in the form of Alex Rodriguez's 650th career homer - was earned.
Shut-out
Salvador Perez had four RBI - including a three-run homer - as the Kansas City Royals crushed the Tampa Bay Rays 11-1.
Cliff Lee hurled eight innings of one-run ball to claim his first win since the All-Star break as the Philadelphia Phillies beat the New York Mets 2-1.
Matt Dominguez and Chris Carter hit back-to-back solo shots in the ninth to lift the Houston Astros to a 10-8 win over the Chicago White Sox.
Zack Greinke was one out away from a complete-game shut-out in the Los Angeles Dodgers' 6-2 win over the Chicago Cubs, while the Texas Rangers were 8-3 winners over the Seattle Mariners.
Todd Helton and Charlie Blackmon homered in the Colorado Rockies' 6-1 win over the San Francisco Giants and the Arizona Diamondbacks beat the San Diego Padres by the same scoreline.