MLB: Boston Red Sox extend AL East lead by crushing Baltimore Orioles
Shane Victorino led the way as Boston stretched their lead at the top of the AL East with a 13-2 win over Baltimore.
Last Updated: 28/08/13 8:13am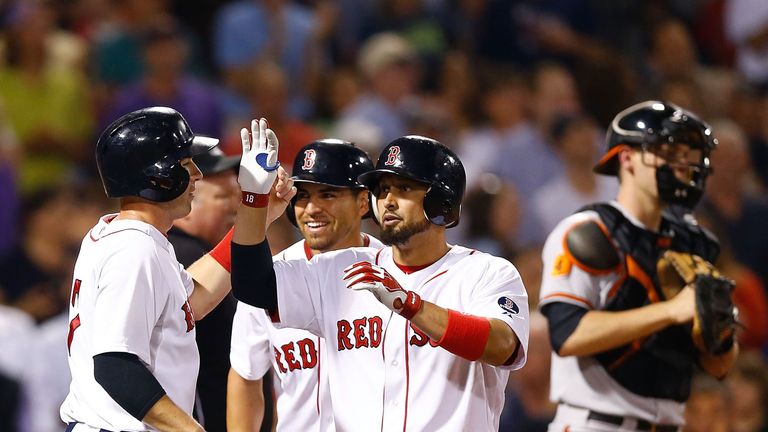 Victorino also scored four times and Jacoby Ellsbury three, while Mike Napoli crushed a huge solo shot in the fourth.
Felix Doubront got the win on 6 2/3 innings of two-run ball to help the Red Sox pad their lead to 2.5 games over the Tampa Bay Rays.
The Rays slipped to a 6-5 defeat against the Los Angeles Angels as closer Fernando Rodney surrendered a two-run double to Erick Aybar in the ninth. Aybar had four RBIs in total, while Mike Trout hit his 23rd home run of the year.
Alfonso Soriano cracked two long balls - including his 400th career homer - in the New York Yankees' 7-1 victory over the Toronto Blue Jays. Mark Reynolds and Alex Rodriguez also went yard for the Yankees.
On his own
Jon Niese defeated the Philadelphia Phillies all on his own, pitching a three-hit shut-out and providing more than enough offence to back his gem as the New York Mets won 5-0.
Niese struck out five and walked one in his 113-pitch effort, while also scoring in the third cracking a three-run double in the sixth.
Brandon Moss belted a two-run homer as the Oakland Athletics beat Jason Verlander and the Detroit Tigers 6-3 in a game which was halted in the sixth thanks to rain.
Atlanta Braves rookie Alex Wood only made it through 5 2/3 innings, but he blanked the Cleveland Indians long enough to earn his third win in a 2-0 victory.
Hunter Pence hit the longest home run of the season - measured at 476 feet - in the San Francisco Giants' 5-3 victory over the Colorado Rockies.
Unearned
Travis Wood allowed just an unearned run in seven innings as he out-pitched Clayton Kershaw to lead the Chicago Cubs to a 3-2 win over the Los Angeles Dodgers.
Joe Kelly threw six innings of one-run ball in the St Louis Cardinals' 6-1 win over the Cincinnati Reds and Aramis Ramirez's 350th career homer helped the Milwaukee Brewers to a 7-6 victory over the Pittsburgh Pirates.
Ian Kinsler scored on a balk from Danny Farquhar in the 10th to give the Texas Rangers a 4-3 win over the Seattle Mariners, while in another game that went to extras the Arizona Diamondbacks beat the San Diego Padres 10-9 in 10 innings.
The Washington Nationals beat the Miami Marlins 2-1, the Chicago White Sox were 4-3 winners over the Houston Astros and the Kansas City Royals saw off the Minnesota Twins 6-1.