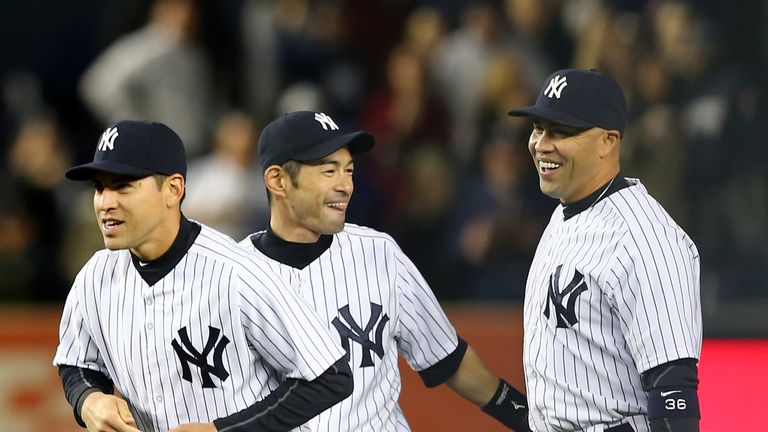 The New York Yankees took advantage of a wild late pitch from reliever Nick Maronde to sink the Los Angeles Angels 3-2.
Mark Teixeira struck a game-tying solo homer and then Jacoby Ellsbury grabbed the go-ahead run, after a passed ball by Chris Iannetta had moved the runners to second and third, courtesy of Maronde's wayward throw in the eighth inning.
Masahiro Tanaka struck out a season-high 11 for the Yankees, yielding just two runs on five hits over 6 1/3 innings.
Jose Abreu set a major league rookie record for RBI through the end of April - 31 - as the Chicago White Sox toppled the Tampa Bay Rays 9-2. The 27-year-old drove in four runs, with a two-run homer in the sixth and a two-run single in the seventh.
Toronto ended a season-worst four-game skid and denied the Boston Red Sox a sweep with a 7-1 victory at Rogers Centre. Melky Cabrera hit a go-ahead double for the Blue Jays, while Brett Lawrie homered, added an RBI double and went 2-for-4.
Elsewhere in American League action, Omar Infante equallsed a career high by driving in six runs as the Kansas City Royals cruised past the Baltimore Orioles 9-3, Kyle Seager homered twice in the Seattle Mariners' 6-5 win over the Texas Rangers and Collin McHugh gave up just two hits and one run in 8 2/3 innings as the Houston Astros overcame the Oakland Athletics 5-1.
Sweep
In the National League, Freddie Freeman's walk-off single clinched a 1-0 10-inning victory and a three-game sweep for the Atlanta Braves against the Cincinnati Reds.
Cincinnati's Johnny Cueto and Atlanta's Julio Teheran each threw eight scoreless innings, allowing only three hits apiece.
A three-run homer from Josh Rutledge spurred the Colorado Rockies to a 6-1 success against the Los Angeles Dodgers, while Jhonny Peralta hit two homers in the St Louis Cardinals' 7-0 thrashing of the Pittsburgh Pirates and Brandon Hicks sealed a three-game sweep for the San Francisco Giants against the Cleveland Indians with a three-run homer in the ninth inning.
In other games, Chris Young's second homer of the season helped the New York Mets to a 4-0 triumph over the Miami Marlins, the Chicago Cubs saw off the Milwaukee Brewers 4-0, the Philadelphia Phillies defeated the Arizona Diamondbacks 2-0 and the San Diego Padres beat the Washington Nationals 4-2.