MLB review: Baltimore Orioles ease to 3-0 victory over Minnesota Twins
Baltimore won their third game in a row at the top of American East on Friday, beating Minnesota 3-0.
Last Updated: 03/05/14 10:06am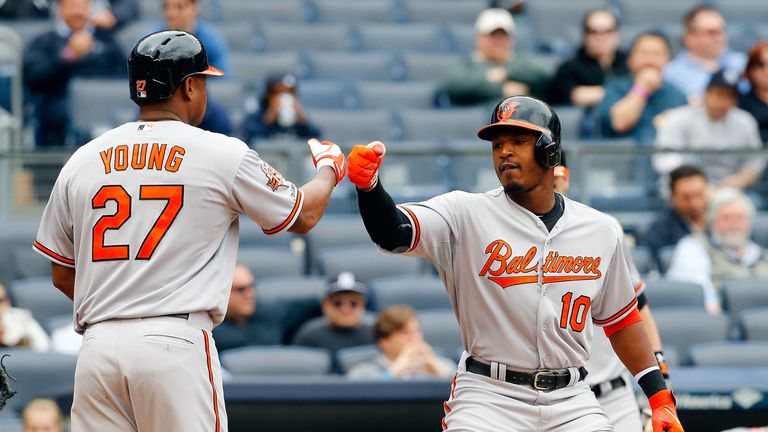 Nelson Cruz clubbed a two-run homer for the Orioles as the Twins offered little resistance.
The New York Yankees are just behind them but they were beaten 10-5 after a marathon clash with the Tampa Bay Rays.
The Rays had 18 innings on Thursday against Boston and took it 14 to end this one, with a five-run spree kicked-off by Wil Myers' RBI single.
A 100th career homer from Dustin Pedroia got the Red Sox a 7-1 win over the A's, while Angel Pagan and Michael Morse hit homers to get the San Francisco Giants a 2-1 victory over the Atlanta Braves.
Adam Wainwright ended a 25-game wait for a run with a pair as the Chicago Cubs saw off the St Louis Cardinals, while Carlos Santana and Michael Brantley both posted homers as the Indians beat the White Sox 12-5.
Adam Wainwright brought a pair of impressive feats to Chicago. Anthony Rizzo and the Cubs disposed of both in short order. Wainwright's 25-inning scoreless streak ended in a two-run first as the Cubs tagged him for six runs in five innings in his first loss at Wrigley Field.
Pittsburgh recovered from 5-3 down to beat Toronto 6-5 - a two-run homer from Pedro Alvarez and a winner from Starling Marte - and Washington beat Philadelphia 5-3.
In Friday's other games, the Arizona Diamondbacks nudged the San Diego Padres 2-0, the Milwaukee Brewers shaded the Cincinatti Red 2-0 and a pair of run-scoring hits from Victor Martinez helped the Detroit Tigers to an 8-2 success against Kansas City.
Miami Marlins got the better of the LA Dodgers 6-3, Texas Rangers saw off the LA Angels 5-2, Houston beat Seattle 5-4 in the 11th and Colorado battered the Mets 10-3.