MLB: Kershaw helps Dodgers triumph, Tigers make it seven straight wins
Clayton Kershaw came off the disabled list to pitch seven scoreless innings and lead the Dodgers over Washington.
Last Updated: 07/05/14 9:27am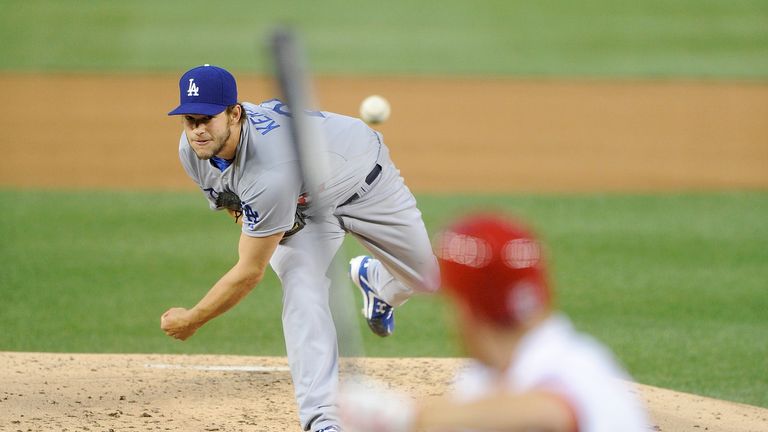 Kershaw, out for nearly six weeks with a muscle strain, struck out nine while allowing nine hits in the National League contest. Drew Butera and Hanley Ramirez both had homers later in the game.
Colorado Rockies piled up 21 hits in a 12-1 rout of Texas Rangers, but it was not until his final at-bat that Nolan Arenado got himself one to extend his hitting streak to 26 games.
Carlos Gonzalez went 5-for-5, driving in three runs in the Interleague contest.
Baseball's leading teams were both slowed by defeats as Milwaukee Brewers (22-12) lost 7-5 to Arizona Diamondbacks, and San Francisco Giants (21-12) went down 2-1 against Pittsburgh Pirates, who benefitted from a video review to win it after Starling Marte had initially been called out at home in the ninth inning.
Colorado's win saw the Giants' NL West lead cut to one game.
Miami Marlins extended their win streak to three as with a 3-0 win over New York Mets behind a six-hit shut-out from Henderson Alvarez, but Atlanta Braves remained a half-game ahead in the NL East by beating St Louis Cardinals 2-1.
Tigers win again
In the American League, Detroit Tigers kept rolling with a seventh straight win, beating Houston Astros 11-4, with debutant pitcher Robbie Ray allowing just one run over 5 1/3 innings.
Chicago White Sox beat city rivals Cubs 5-1 thanks to four hits from Gordon Beckham, staying five games back on Detroit in the AL Central.
Seattle Mariners won their fourth in a row, beating the AL West-leading Oakland Athletics 8-3 to the close the gap to two games.
Brian Roberts hit his first homer as a New York Yankee in the ninth inning to lift them to a 4-3 win over Los Angeles Angels, while Grady Sizemore's walk-off single in the 12th gave Boston Red Sox a 4-3 win over Cincinnati Reds.
It also went to extras in San Diego before Kansas City Royals left with a 3-1 win over the Padres, while Toronto Blue Jays beat Philadelphia Phillies 6-5 in 10.
Baltimore Orioles beat Tampa Bay Rays 6-5, while Cleveland Indians beat Minnesota Twins 4-2.