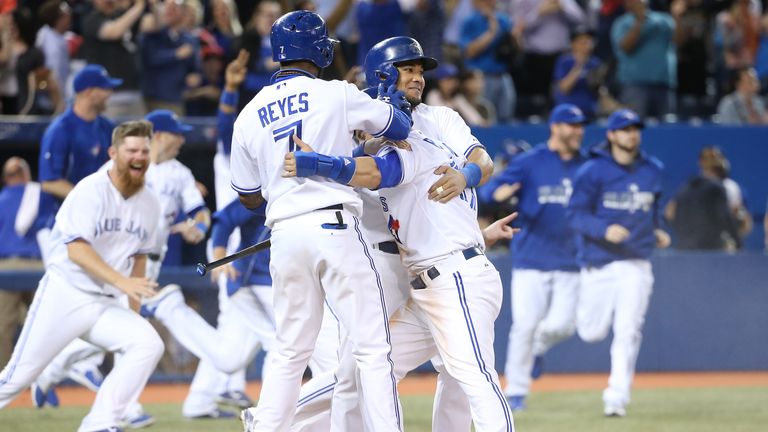 The Toronto Blue Jays stretched their stellar winning streak to nine games as pinch-runner Kevin Pillar claimed the decisive run in a 3-2 victory over the Tampa Bay Rays.
Top of the American League East on the back of their impressive run of form, Toronto will aim to make it 10 in a row when they tackle the Kansas City Royals later on Thursday.
Pillar got lucky in the ninth inning when, as a replacement for Dioner Navarro who had singled at the top of the inning, he seized on a wayward throw from Juan Carlos Oviedo to steal home.
Reigning World Series champions the Boston Red Sox continued to rebuild their season, following the harrowing 10-game losing streak that ended on Monday night. They earned a third straight win by overcoming the Atlanta Braves 4-0 at Fenway Park.
The Chicago White Sox earned a third straight win over the Cleveland Indians, prevailing 3-2 on the back of Moises Sierra driving home the winning run in the ninth.
Chris Carter blasted two home runs for the Houston Astros in a 9-3 win over the Kansas City Royals, earning a fifth straight victory, while the Texas Rangers edged out the Minnesota Twins 1-0 in their contest.
Spurred
Josh Donaldson ended the game in style for the Oakland Athletics in their home game against the Detroit Tigers, hitting a three-run homer in the bottom of the ninth to secure a 3-1 win, and the Seattle Mariners won by the same margin against the Los Angeles Angels helped by a home run from Mike Zunino.
In the National League, Ryan Howard matched Donaldson's feat as his three-run walk-off homer at the bottom of the ninth tied up a 6-3 win for the Philadelphia Phillies against the Colorado Rockies.
The Arizona Diamondbacks raced to an 8-0 lead after the first inning and later had home runs from Martin Prado and Paul Goldschmidt on their way to a 12-6 victory over the San Diego Padres.
Brandon Phillips' two-run homer spurred the Cincinnati Reds to a 3-2 win over the Los Angeles Dodgers, while the San Francisco Giants overcame the Chicago Cubs 5-0, the New York Yankees toppled the St Louis Cardinals 7-4, the New York Mets trounced the Pittsburgh Pirates 5-0 and the Miami Marlins needed a 10th inning to clinch an 8-5 success against the Washington Nationals.
Nelson Cruz cracked a pair of homers but ended on the losing side as the Milwaukee Brewers beat the Baltimore Orioles 8-3.