MLB: Max Scherzer guides the Detroit Tigers to win over the Chicago White Sox
Last Updated: 13/06/14 6:48am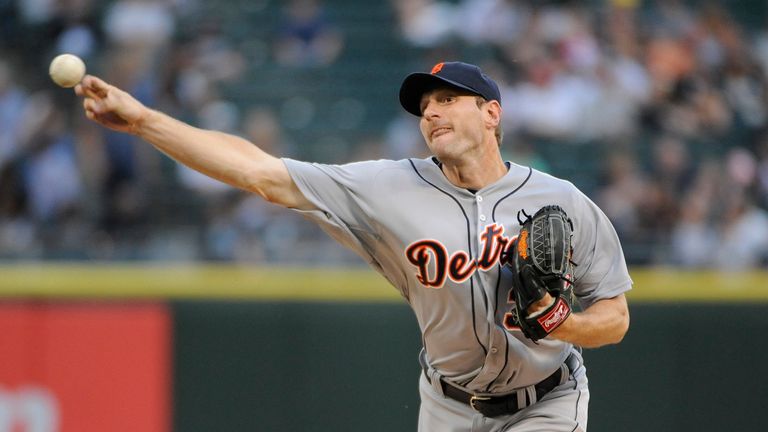 Max Scherzer registered his first career complete game and shutout as the Detroit Tigers defeated the Chicago White Sox 4-0 at US Cellular Field on Thursday.
Victor Martinez homered and Miguel Cabrera had two RBI for the visitors, who avoided a series sweep against their division rivals.
The Boston Red Sox collected just their third win in 10 games with a 5-2 victory over the Cleveland Indians at Fenway Park.
Jon Lester walked one and struck out four over 7 2/3 solid innings at Fenway Park and David Ortiz clocked his 15th homer of the season in the fifth.
Kevin Gausman gave up one run on five hits over six innings and Delmon Young crushed a two-run homer as the Baltimore Orioles toppled the Toronto Blue Jays 4-2 - a third consecutive loss for the American League East leaders.
The New York Yankees sealed a three-game sweep with a 6-3 win at Seattle, Derek Jeter going 3-for-4 with two runs and two RBI against the Mariners on what was likely to be his final appearance at Safeco Field.
Walk-off homer
Reid Brignac's go-ahead pinch-hit sixth-inning double set Philadelphia on their way to a 7-3 success against the San Diego Padres, John Mayberry Jr sealing matters with a three-run homer in the following frame as the Phillies completed a series sweep.
Tim Hudson pitched seven strong innings, allowing just one unearned run, as the San Francisco Giants avoided a series sweep with a 7-1 victory over the Washington Nationals at AT&T Park, and Chris Carter's walk-off homer in the 10th inning propelled the Houston Astros to a 5-4 triumph over the Arizona Diamondbacks.
The Milwaukee Brewers got past the New York Mets 5-1 at Citi Field, Jonathan Lucroy launching a decisive two-run shot in the 13th inning, while the Colorado Rockies overcame Atlanta 10-3, Jhoulys Chacin limiting the Braves to two hits in seven scoreless innings.
Elsewhere, the Pittsburgh Pirates were 4-0 winners against the Chicago Cubs and the Cincinnati Reds saw off the Los Angeles Dodgers 4-1.