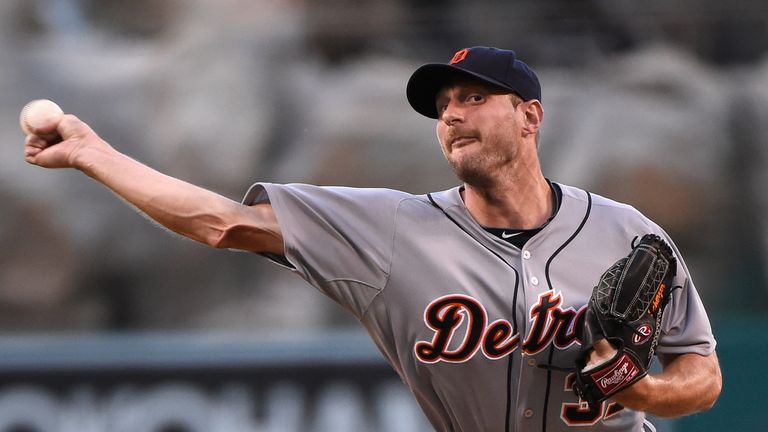 Detroit pitcher Max Scherzer struck out 11 batters as the AL Central-leading Tigers beat the Los Angeles Angels.
Scherzer was on fine form from the mound at Angel Stadium, while Eugenio Suarez scored two of the Tigers' six runs as they overturned a 3-1 deficit after five innings to win 6-4.
Howie Kendrick, David Freese, CJ Cron and Mike Trout scored for the Angels, but they could not secure victory in the opening match of a four-game mini-series between the two sides.
Brandon Moss notched his third grand slam of the season as AL West table toppers the Oakland Athletics enjoyed a 13-1 victory over the Houston Astros at Minute Maid Park.
Moss achieved the feat in his side's sixth inning and he also scored in the eighth, while Josh Reddick (two), Eric Sogard (two), Josh Donaldson (two), Jed Lowrie, Coco Crisp, Nick Punto, Derek Norris and Nate Freiman also crossed home plate. A Chris Carter home-run accounted for Houston's consolatory score.
The Milwaukee Brewers were comfortable 9-1 winners over the New York Mets at Miller Park.
Home runs from Jonathan Lucroy, Khris Davis and Ryan Braun and Jean Segura's two-run triple set up victory for the NL East leaders, who are now unbeaten in four games.
Slumped
Lucas Duda's home-run in the Mets' seventh inning gave the visiting fans a little cheer.
Pitcher Wei-Yin Chen rendered the Seattle Mariners scoreless and limited their batters to five hits as the Baltimore Orioles extended their lead at the top of the AL East standings to three games thanks to a 4-0 victory.
All the runs came in the Orioles' third inning as Delmon Young homered and Ryan Flaherty, Nick Markakis and Caleb Joseph also crossed home plate.
NL West leaders the San Francisco Giants slumped to a 2-1 away defeat to the Philadelphia Phillies, whose pitcher Cole Hamels achieved 10 strike-outs to ensure the Giants did record a clean sweep of wins in their four-game mini-series.
Elsewhere, the San Diego Padres trumped the Chicago Cubs 13-3, the Toronto Blue Jays were 8-0 victors against the Boston Red Sox and the New York Yankees beat the Texas Rangers 4-2.
There were also wins for the Chicago White Sox, the Miami Marlins and the Kansas City Royals.