MLB: Los Angeles Angels move clear at the top of the American League West
Last Updated: 25/08/14 6:44am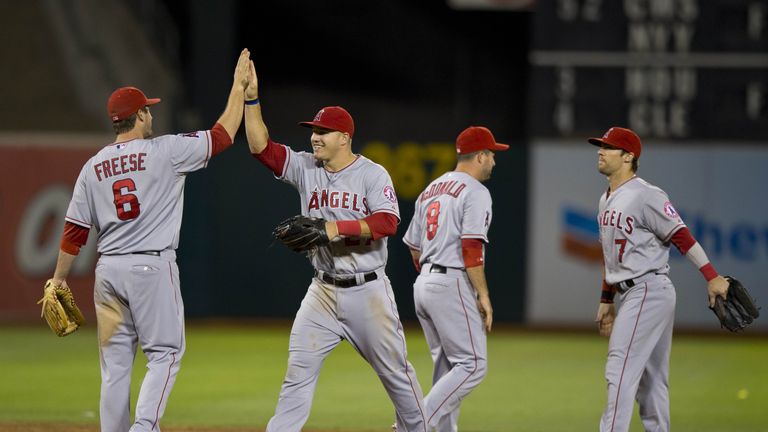 Early runs allowed the Los Angeles Angels to cruise to a 9-4 victory over Oakland that moves them one game clear of the Athletics at the top of the American League West.
The Angels had taken an 8-0 lead by the end of the fourth, powered by a two-run homer from Josh Hamilton in the third inning.
Oakland scored three in a seventh-inning rally as they finally got to Jered Weaver, but could do nothing to prevent him collecting his 14th win of the season.
The Kansas City Royals' lead in the AL Central is down to two games after they lost 3-1 to the Texas Rangers, allowing Detroit to close the gap as the Tigers routed the Minnesota Twins 13-4 with Torii Hunter and Victor Martinez collecting four RBI each.
The Baltimore Orioles also saw their lead cut in the AL East after slumping to a 2-1 loss to the Chicago Cubs at Wrigley Field.
Cubs starter Tsuyoshi Wada took a no-hitter into the seventh before Steve Pearce's homer, but the Chicago bullpen hung on to the lead.
That allowed the New York Yankees to the cut the gap to 3.5 games as they beat the Chicago White Sox 7-4 in 10 innings, with Brian McCann coming off the bench to club a three-run shot with two outs in the 10th.
Dominated
The Toronto Blue Jays are a further two games back after falling to a 2-1 loss to the Tampa Bay Rays in 10 innings.
The Seattle Mariners still hold the lead in the race for the second AL Wild Card spot after edging the Boston Red Sox 8-6, while the Cleveland Indians enjoyed a 3-1 win over the Houston Astros.
In the National League, the Milwaukee Brewers moved 1.5 games clear of St Louis Cardinals with a 4-3 win over the Pittsburth Pirates, while the Cardinals lost 7-1 to the Philadelphia Phillies as Jerome Williams dominated for eight innings.
The Washington Nationals stretched their lead in the NL East to eight games as they rallied from five runs down to beat the San Francisco Giants 14-6 in a wild contest, scoring six in the sixth inning and five in the eighth.
In doing so they took full advantage of a 5-3 loss for the Atlanta Braves against the Cincinnati Reds.
Despite the Giants' loss, there is no change to the Los Angeles Dodgers' 4.5 game lead in the NL West as they went down 11-3 to the New York Mets, with Lucas Duda hitting two homers in support of veteran Bartolo Colon.
The San Diego Padres beat the Arizona Diamondbacks 7-4 to give manager Bud Black his 600th win, while early home runs powered the Colorado Rockies to a 7-4 win over the Miami Marlins.