NBA: Miami Heat bidding to beat Toronto Raptors for 10th straight time
The Miami Heat will be chasing a 10th straight win against the Toronto Raptors when the two teams face off on Sunday.
Last Updated: 03/02/13 10:40pm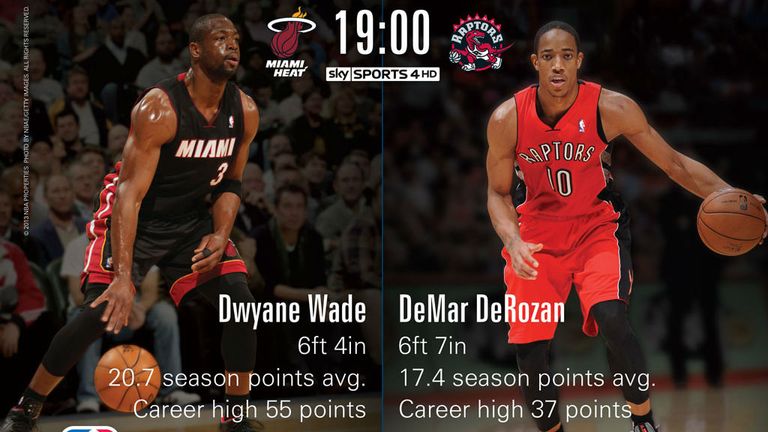 The defending NBA champions have dominated the series between the two Eastern Conference outfits as of late and will aim to continue their winning run at the Air Canada Centre.
Sunday's clash marks the end of a four-game road trip for the Heat which has so far seen them taste defeat twice, against the Boston Celtics and Indiana Pacers.
Former Raptors star Bosh heads back to his old stomping ground for the third time. In his two previous visits with the Heat the centre has averaged a total of 27.5 points.
Miami currently own the best record in the East at 29-14 with the Raptors languishing on 17-30, but Toronto has been energised by the addition of small forward Rudy Gay, acquired via a three-team trade earlier in the week.
Gay came off the bench to score 20 points in a win against the Los Angeles Clippers on Friday and will likely make his first start against Miami.
One of the most promising aspects of his debut against the Clippers was his seemingly natural on-court relationship with scoring guard DeMar DeRozan, who leads the Raptors this season with 17.4 points per game.
"I've known Rudy for a couple of years now and jokingly we said this summer we were going to play together," DeRozan told the Toronto Star.
"It's just crazy, he knows my game, I know his game. It's as simple as that. We don't make it difficult, other than that, we just know each other's games."
Despite the new-found optimism in Toronto, the Heat go into the contest as favourites and the 'Big Three' of Bosh, Dwayne Wade and LeBron James are set to be as hard to stop as ever.