NBA: Golden State Warriors aim to tie play-off series with San Antonio Spurs
Golden State will bid to regain some momentum against San Antonio in Game Four of the Western Conference semi-finals.
Last Updated: 13/05/13 6:53am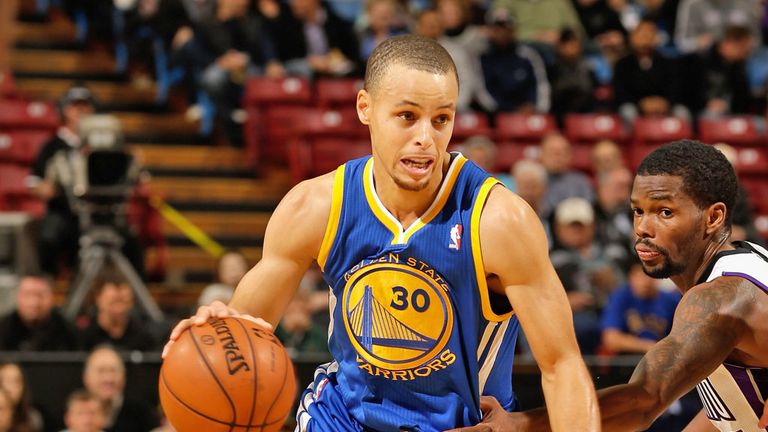 Sky Sports' second live NBA offering on Sunday is a pivotal post-season clash from the Oracle Arena in Oakland, with the Spurs looking to kill off Golden State's lively challenge.
San Antonio needed double overtime to win an epic first game of the series before the Warriors hit back to take the second contest behind 34 points and 14 rebounds from Klay Thompson.
The Spurs, seeded second in the West as opposed the Warriors' sixth seeding, restored some of the expected order with a 102-92 triumph in Game Three as Tony Parker poured in 32 points.
A second straight win on the road would put them firmly in the driving seat, and Golden State's chances of levelling the seven-game series would take a huge blow if point guard Stephen Curry is ruled out.
Curry, who scored 44 points in Game One and has averaged 25.3 points per game in the play-offs so far, hurt his ankle in the defeat on Friday night and will be a game-time decision on Sunday.
"Again, as usual, just staying true to the process. He'll get treatment all day long. I'll stay in constant contact with him. We'll see how he feels and make a decision whether he plays or not tomorrow (Sunday)," Warriors coach Mark Jackson told Inside Bay Area.
But Thompson added: "He'll play. No question about it. He will play through anything. He's got heart."
Curry is Golden State's main scoring and creative threat, while Andrew Bogut leads the team in rebounds this post-season. David Lee, the Warriors' usual main presence in the paint, will be limited with a hip injury.
Veterans Parker and Tim Duncan will be leading the Spurs' offence, with Kawhi Leonard also set to be given extensive playing time while Manu Ginobili operates from the bench.
NBA live: San Antonio Spurs @ Golden State Warriors, Game Four, Sky Sports 4 HD, 8.30pm, Sunday May 12.