Sky Sports experts have their say on this week's big sporting issues
See what has got the Sky Sports experts' tongues wagging over a busy seven days in sport...
Last Updated: 02/03/13 11:20am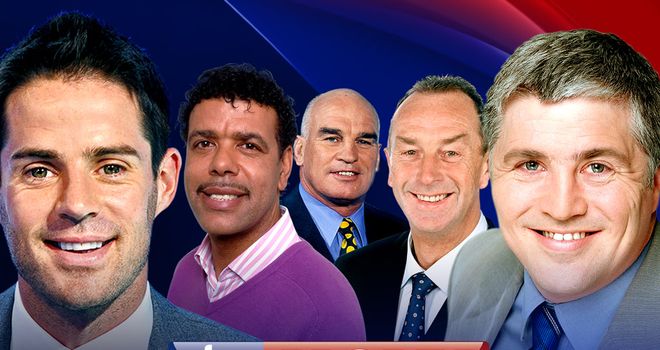 Whatever your sport, our team of pundits, columnists and bloggers are here every week to bring you the sharpest views and the shrewdest comments on the latest developments.
Some of the most respected names in the business, including Jamie Redknapp, Stuart Barnes, Stevo and Paul Merson deliver their views with their expert columns, while we also have blogs from the likes of David Lloyd and Jeff Stelling.
Here's a snapshot of what the experts have been saying over the last seven days...
"With the performance level slipping a little, changes should occur for the Italy match. England will beat Italy at Twickenham and with plenty to spare. Stuart Lancaster can have one eye on development even as he moves towards a Cardiff collision. Care deserves a start which is not the same as saying Ben Youngs should be dropped for the Welsh game. England must utilise their squad and keep the contest for places sharp.
England head coach Stuart Lancaster should make personnel changes for the Six Nations clash with Italy, says Stuart Barnes.
Taken from 'Time to develop'
"Most viewers won't have seen the time and patience shown by the Storm players after the game had ended. They stood out on the field and went to any supporter who wanted an autograph or photograph. The club are an interesting one in that they live outside the traditional heartland of rugby league in Australia, a bit like London Broncos do in Super League. The sport wasn't played at a junior level when The Storm first began playing in the late 90s and it's taken them a long time to develop some of their own junior players. Again there is a similarity to the Super League side from 'down south.'"
Phil Clarke credits the attitude shown by Melbourne Storm players after the World Club Challenge.
Taken from 'Lessons for London'
"Getting knocked out isn't terminal to your career. Manny Pacquiao got knocked out and no one is writing him off. It's just the fight game we're in. But, just as when Lennox Lewis was stopped by Oliver McCall, it's all about how Price comes back from his defeat. How will it affect his confidence? Will it affect the way he fights? We'll have to wait and see. Price is going through a learning stage in his career and he learnt a big lesson on Saturday night. Let's see how he responds..."
Johnny Nelson hopes David Price can fight his way back from a shock defeat to Tony Thompson.
Taken from 'Price of recovery'
"Poulter is loud and brash, but he adds a lot of colour to a world that can sometimes be very grey and I like guys like that, people who are prepared to stand out from the crowd with both their personality and golf game. His most controversial comment was probably when he declared, before McIlroy burst onto the scene, that if he played to his potential it would be "just me and Tiger Woods" - but I thought it was a tremendous statement. It wound a lot of people up, especially the other players, but if you don't believe you can achieve something it is incredibly difficult to do it."
Ian Poulter may be outspoken, says Rob Lee, but he is brilliant for the game of golf.
Taken from 'Match Points'
"It should come as no surprise to anyone to see Gareth Bale doing what he's doing for Spurs at the moment. Anyone who can score a hat-trick against Inter Milan aged 21 is destined to go right to the top. Now he's scoring goals he's taking the headlines. But if Arsenal can contain him then they've got Wilshere, Cazorla, Walcott, Giroud and Podolski who can cause Tottenham problems - and they have to believe they can get something from this game. Arsenal beat Spurs 5-2 earlier in the season and if they can get a result this weekend then they can put the pressure on their rivals for a Champions League place. "
Jamie Redknapp is refusing to write off Arsenal's chances of conquering north London rivals Tottenham on Sunday.
Taken from 'Gunning for Gareth'
"I think the main sticking point over the years has been financial; both Mayweather and Pacquiao have felt that they were the pound-for-pound king - and probably still do - and would have wanted 60 per cent of the revenue rather than a 50-50 split. It's a shame we may not see them lock horns because it would have been a classic contest between Mayweather's defensive skills, Pacquiao's attacking talent and two great personalities - and, quite probably, the richest fight in history"
Glenn McCrory doubts whether the long-awaited clash between Floyd Mayweather Jr and Manny Pacquiao will ever take place.
Taken from 'Weather forecast'
"England probably won't receive an intense workout ahead of the Ashes and you would like to think they could dominate New Zealand. The hosts have a decent pace attack that could cause England's top order problems, but with Daniel Vettori out with an Achilles injury, their spin resources are pretty threadbare, with 32-year-old Bruce Martin set to get the nod for the first game in Dunedin. It's also hard to see whatever opening-batting combination New Zealand select protecting the middle order and I think the likes of James Anderson and Steven Finn will be too much for them."
Mike Atherton expects England to expose New Zealand and breeze through their three-match Test series.
Taken from 'Kiwi crushers'
"I think Jeff Stelling will self-combust on the last Soccer Saturday of the season and I will dust the cobwebs off my summersaults if Hartepool stay up! As many as 12 points from safety just a few weeks ago, John Hughes' side have embarked on a seven-game unbeaten run which has yielded 17 points and they are now just six from safety. Pools' first four fixtures in March - Doncaster (a), Colchester (h), Yeovil (h), Oldham (a) - are massive and I feel they must beet Colchester and Oldham because they have a very tough run-in. If they finish above Oldham, though, they will remain in the division."
Peter Beagrie blogs on Hartlepool's chances of staying in League One - and says carnage could ensue if they do!
Taken from 'One direction'