London's NBA success
Alex Ferguson was there when the roof didn't quite blow off as the NBA came to town.
Last Updated: 19/01/13 10:11am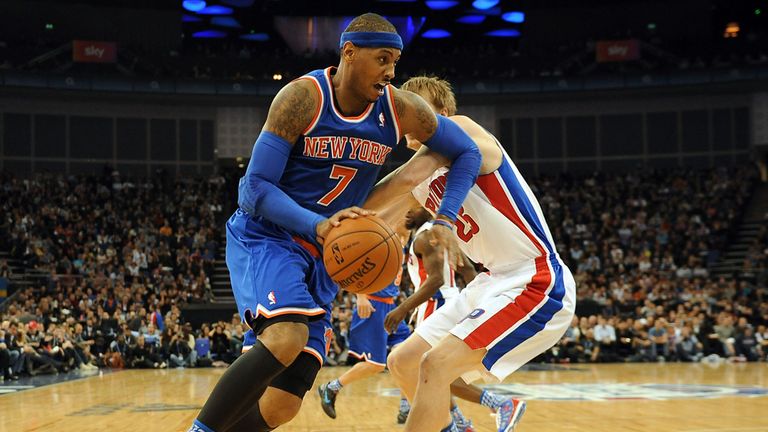 The fireworks, celebration, and excitement has normally accompanied the NFL's trips to London. It's now ticket that sells out in no-time, as travelling fans, corporates and UK-based fans scramble to see the heroes of the gridiron.
And although the 02 was sold out to its 18,000-plus capacity, there wasn't the celebration, fireworks, or if we're quite honest, the atmosphere.
What we did have in abundance were celebrities: Premier League players in past and present got hold of the tickets, including Arsenal legends Robert Pires, Patrick Viera and Thierry Henry and current player Baccari Sagna, Chelsea's David Luiz, Aston Villa's Darren Bent, Spurs' Clint Dempsey, and QPR's Shaun Wright-Phillips. Also in attendance were rappers Tinie Tempah, Wretch32, and Chipmunk. Oh, and Madison Square Garden ever-present Spike Lee, who has taken residence on the New York Knicks courtside seats as long as we can remember.
The crowd itself was a mix of those who flew in from the game, American ex-pats drooling at the chance to see 'their' games played on our waters, a lot of men wearing expensive suits (unsurprising bearing in mind we're next to the banking hub of Canary Wharf), and 'proper' NBA fans who, like their NFL counterparts, were just there to see a live game.
The problem with it all was that the live game wasn't a spectacle. It was a destruction. The Knicks led by 20 early on thanks to some fantastic three-point shooting, with Carmelo Anthony leading the way, and Detroit really didn't answer until rallying in the third quarter to bring the margin down to just six points, when a lot of Knicks fans (using to seeing their team collapse in this fashion over the years) took a deep breath and prayed for no disappointment. But the Knicks woke up, and the game ended 102-87.
For me, reason why the place wasn't 'rocking' (and we overheard on Knicks fan complaining that people around him were "not taking sides" and "applauding for both sides scoring points") was three-fold: One, there are a lot of NBA games. Unlike the NFL and it's 16-game season (ie everyone is pretty important), the NBA plays 82 games, meaning a pre-All Star Game in London is not going to make a difference to the schedule's lives. Two, the O2 isn't Madison Square Garden (it's much higher), so any noise going upwards gets lost in the ceiling. And three, the Knicks were ahead by 20 early on, so there wasn't a lot to shout about. By half-time, people were checking their watches. At least, certainly those schooled in the NBA were.
This is not to say the NBA foray over here wasn't a success, because the game was sold out, and tickets were going for more than £100 in other ticketing sites. There is clearly the appetite for the game. What the NBA could really do with is inviting two of the NBA's biggest teams to play over here: The Los Angeles Lakers, Miami Heat and (because UK player Luol Deng stars there) the Chicago Bulls. If you want a game that's not only get a packed-to-the-rafters stadium, but also a big TV ratings (and let's face it, NBA Commissioner David Stern's all about spreading the brand) and galvanised interest from the UK in a game like this, then you've got to get the stars. Sure, Carmelo Anthony's a star, but he's not the big deal that is Kobe Bryant and LeBron James. Maybe it's because he's not on the TV the whole time promoting himself. Or maybe it's because $3m donations to Syracuse, his former university, go un-noticed. Listen Mr Stern: Get the big-time teams, and interest in the game will go through the roof in this country.
And lastly, we don't think we'll see a NBA franchise in this country for two reasons: First of all, it's hard enough for most NBA teams to sell tickets for 82 games, and we can't see that happening in the UK. And secondly, it would be a stretch to think that NBA players would love to be playing with jet lag for a whole season.
Anyway, it was a great way to kick off Sky Sports' coverage of the NBA this season, and we can't wait for closer games to come!