Grant Hill says that the LA Clippers have what it takes to win NBA Championship this season
Grant Hill says that the LA Clippers have got what it takes to win the NBA Championship this season.
Last Updated: 08/02/13 3:48pm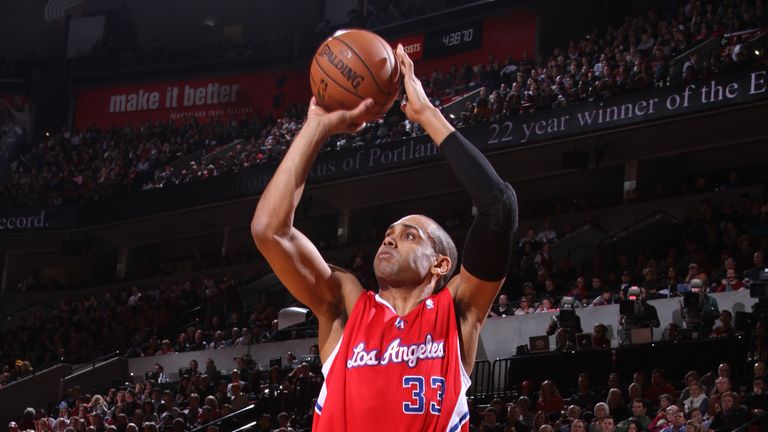 The 40-year-old forward has had an impressive 18-year career, playing with the likes of Detroit Pistons, Orlando Magic and Phoenix Suns, but has never won a Championship.
"I would love to go out with a bang," said Hill. "Not that I'd retire - but in terms of all I've been through over the course of my career, getting a Championship would be awesome.
"That's why I came to the Clippers - I felt like we really had a chance to win it. That has eluded me throughout my career, but it'd be the icing on the cake.
"We know there's a lot of hard work in front of us. But we feel we have the ability, the talent and the depth to be a good team and a Championship-level team.
"Obviously there are a lot of variables that go into that, but we certainly have, first and foremost, the personnel, the character and the talent to get the job done. So now we've just got to get healthy.
"On Thursday we had our first practice where everybody practiced - everybody was healthy, the first time for this season. As we come out of the All-Star break, we'll really have a nice stretch going into the post-season."
Reinvent
Hill is the second oldest player in the NBA - a day younger than Knicks forward Kurt Thomas, but despite rumours that he will retire in February, Hill is not ready to make that decision yet.
"A reporter asked me if I was planning on carrying on playing, I just told him that I take it year to year - I have for the last five years," said Hill.
"I said that I am getting towards the end but at the moment I am having fun; I have two-year deal at the Clippers. I know I don't have a lot of time left in the game but I am not making that decision in February."
The small forward has become one of the NBA's best guards - a decision that he says was certainly not conscious but has helped him prolong his career.
"It just kind of happened. As you get older and things become a little more difficult to do you start to think of ways to reinvent yourself," said the Dallas-born star.
"Playing out in Phoenix for five years made me play defence and guard the other teams. I think I kind of fell into that role and did pretty well. It was not necessary a conscious decision but I think it has allowed me to continue to play and continue to have a defined role in the NBA."
Frustrated
Hill's defensive prowess will have to be at its very best on Sunday when Clippers take on Atlantic Division-leading New York Knicks as part of an NBA double-header live on Sky Sports 2 HD.
However, Hill says defence will have to be a real team effort against the likes of Knicks forward Carmelo Anthony.
"I have always said that a good offence trumps a good defence," explained Hill. "So defending against guys like Carmelo is a team effort. He is a great player and I have guarded him before and I will hopefully have the chance to guard him on Sunday.
"Against talented forwards like Carmelo you have to have a game plan and make them work and compete for everything. You also cannot get frustrated when they make great plays - it's going to happen; you can do everything right and still not be effective.
"So you have got to work hard and make them work hard on the other end, too - make them guard and defend a bit. It's not easy and it certainly is a challenge."
Catch the NBA double-header live on Sky Sports 2 HD on Sunday as the LA Clippers face the New York Knicks (6pm) followed by the LA Lakers taking on Miami Heat (8.30pm).