American feeling right at home in Israel
Ahead of the release of the new NBA 2K14 game, Sky Sports caught up with Maccabi Tel Aviv's Shawn James to discuss life in Israel, his future plans and playing as his virtual self...
Last Updated: 27/09/13 1:08pm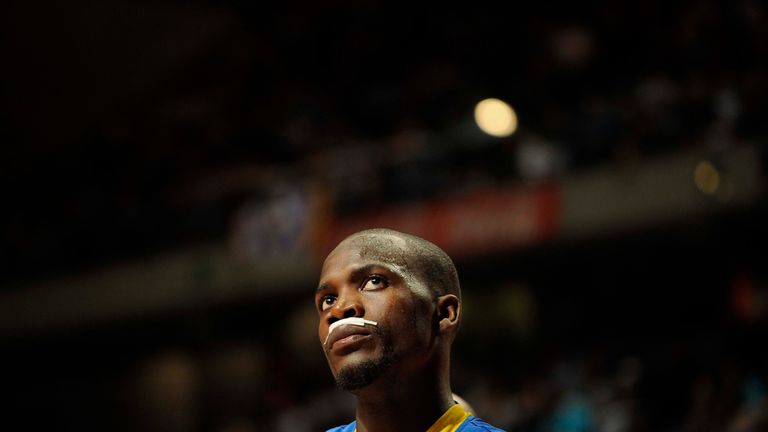 Shawn James is a professional basketballer from the Big Apple who went to University in Pittsburgh and Boston but now finds himself calling Israel home.
So what exactly is a Brooklyn native doing plying his trade for Maccabi Electra?
"Living the dream"
Such a dream would seem uncommon for an American sportsman. During his college careers at both Duquesne and Northeastern, James built himself a reputation as a shot-blocking big man, setting records and building a profile surely fit for the NBA.
Yet when it came to the 2008 draft, he was overlooked. In need of finding work, he decided to sign for Israeli side Bnei Hasharon. After two successful years there he was snapped up by Maccabi Tel Aviv, a perennial power house of the domestic game in the country.
Last season the 30-year-old helped them achieve the domestic cup double and although they fell just short of a clean sweep of trophies, losing in the league final to Maccabi Haifa, they did reach the last eight of the Euroleague.
"I'm playing basketball for a great city in a great county. I'm doing what I love in a place I love," James, attending a Madrid press day ahead to promote the upcoming release of 'NBA 2K14', continued.
"I just went through the NBA process and then, after that, looked at the best options. I had interest from Israel, so that was the next best move for me.
"It's a different type of basketball (in Europe). With Americans in college it's about running up and down the floor - your athleticism gets you by a lot of the time, it bails you out a lot.
"When you come to Europe, though, you have to learn the game. You have got to learn how to screen, whether to do it high or low, whether to pick. I became a better player fundamentally when I came to Europe."
No issues
Now, fresh off an impressive campaign that saw him named to the All-Euroleague Second Team, James has signed a contract extension that will keep him with his current employers for a further four more years.
He knew little about Israel before pledging to move there in the first place over five years ago, though has had no issues living in an area of the world that can, at times, be volatile to say the least.
"I went in blind," he confessed. "You only hear and see the nonsense that is in the news and on the television, so your view on Israel is always a negative one. So when I came I was able to shoot those negatives down and see a great place, meaning I enjoyed it even more.
"Stuff like that happens in every country, but no one is going to watch the news if they say everything is great. You have to show that stuff because that's what people watch.
"But I've been there for six years and I've got my family with me - we love it there."
Indeed, such is James' satisfaction with his lot right now that he plans to finish up his career in Europe, before then returning to his homeland to find "a profession that he's good at" whilst building a home for his wife and twin boys in North Carolina.
Until then, though, there is some basketball to play, and not just on the actual court.
The virtual Shawn James and the rest of his Maccabi team-mates will come to consoles with the launch of NBA 2K's 2014 version on October 1 - and the real Shawn James is looking forward to it.
"I'm not a gamer. Before touching the controllers to try out NBA 2K14, I had never touched a PS3 controller," he said. "A few years ago I did try to bring my Super Nintendo to Israel, but it blew a fuse.
"They made me a little uglier in the game than I am in person. But I'll take it. Now (back home in America) they're going to go crazy.
"I'm only going to play with my team. I'm going to play with me and I am going to play every position on the court. I'm going to do everything that my coach tells me not to do; shoot threes, play at point guard. I'm going to do whatever I want."
NBA 2K14 is released in Europe on October 4 for PC, PS3 and Xbox 360