NBA: James secures Heat title
LeBron James led with a triple-double as Miami secured a 4-1 series win over Oklahoma to win the NBA title.
Last Updated: 22/06/12 11:15am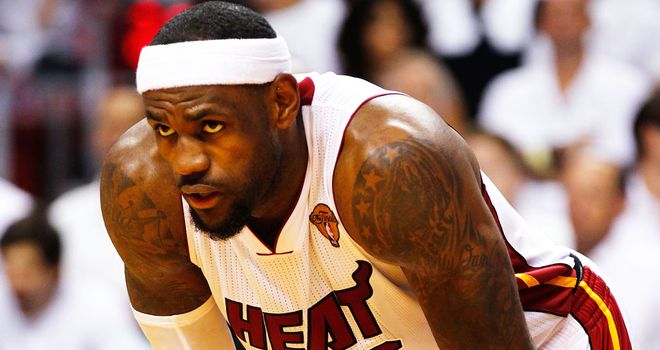 LeBron James led the way with a triple-double as the Miami Heat completed a 4-1 series win over the Oklahoma City Thunder to secure the NBA title.
The forward racked up 26 points, 13 assists and 11 rebounds as he collected the first title of his illustrious career.
The Heat won 121-106 on the night to wrap up the best-of-seven series with two games to spare.
Chris Bosh, Dwyane Wade and Mike Miller also scored 20 points or more, with Miller hitting seven of eight three-point attempts on his way to a 23-point tally.Kevin Durant led the beaten Thunder with 32 points, James Harden and Russell Westbrook adding 19 apiece, but the home side were always in control in Florida.
Half-time
They led 31-26 after the first quarter and pulled out to 59-49 by half-time.
They were more dominant still after half-time, a 16-0 run in the third quarter taking them 25 points ahead at 88-63. It was 95-71 by the end of the quarter and the fourth was almost a lap of honour for Miami, with James leading the celebrations on the sidelines as the Heat second string played out the closing seconds.
James was a unanimous choice as series MVP, completing a journey of redemption after he was widely criticised following the Heat's loss to the Dallas Mavericks last year.
"It means everything," he told ESPN. "This is a dream come true for me, I've been through a lot the last two years but this is definitely the way that it pays off.
"Losing in the finals last year put me back in place. It humbled me a lot and I was able to go back to the basics.
"I just looked at myself in the mirror and said 'you need to be better'. Both on and off the floor, and I'm happy I was able to put myself and our team in a position to win it."
Speaking in the post-game presentation, he added: "The only thing that bothered me is that a lot of people said I was a selfish person and a selfish basketball player.
"I strive on being a team player, doing whatever it takes to help this team win - but at the same time, I used it as motivation.
"I never had to prove anything to anybody, and last year I tried to prove something to everybody. I played with a lot of hate and that's not the way I play the game. I play it with a lot of love and passion, and that's what I got back to this year."
Wade double
It was a second title for both Wade, series MVP in the 2006 win as a 20-year-old, and coach Erik Spoelstra, who was an assistant coach on that occasion and stepped up to win his first as head coach.
Wade said: "Winning the championship in 2006 was amazing but I hadn't been through anything yet. Now, six years after that, I've been through a lot in my personal life and my professional life and this means so much more.
"We made a decision two years ago to become a team. LeBron, Chris (Bosh) and myself, and the other guys, decided to come together.
"I had a role to play, it might have changed a little bit, but at the end of the day we all had one common goal, and that was to become the champions."
Thunder coach Scott Brooks was proud of his team's efforts and is confident of further improvement over the off-season.
"When you play against the best, you learn," he said.
"You get here because you're good but we definitely have room to improve. That's what the summers are for."