Plymouth Raiders crush struggling Manchester Giants
Colin O'Reilly scored 28 points as UCP Marjon Plymouth Raiders blew out Manchester Giants 105-74 at the Pavilions.
Last Updated: 07/10/12 8:28pm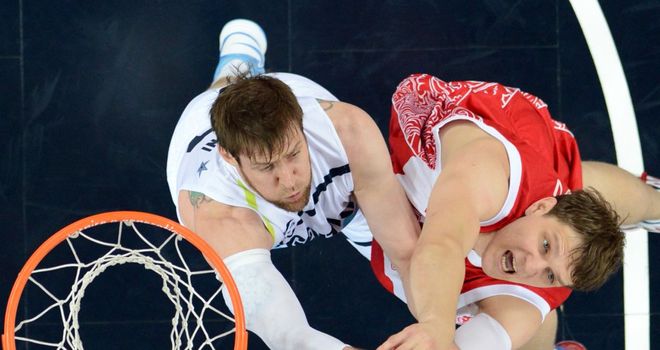 The gulf in the calibre of the teams was cruelly exposed by the Raiders during the third quarter when they built on their already excellent work from the first-half by tearing the Giants to shreds.
They poured in a mammoth 36 points and strolled to an excellent victory, once again underlining why they are being tipped as strong title contenders.
O'Reilly was on fire and the Irish forward showed why head coach Gavin Love snapped him up during the summer from Cheshire as he not only racked up a superb 28 points, but also added 11 rebounds, six assists and three steals in a memorable all-action performance which will almost certainly land him a place in the BBL Team Of The Week scheduled to be announced on Tuesday.
Raiders only had one gear in this game and it was top gear. They blasted their way to a 25-18 advantage after the opening ten minutes and extended their lead to 13 points heading to the locker room after the Giants tried in vain to stem the tide.
But, with only David Aliu regularly finding ways to score against the Raiders' defence, it was one-way traffic and Giants capitulated in the second half, simply unable to cope with what was in truth, an excellent display by the home team.
In addition to the wonderful work of O'Reilly, his former Jets team-mate Matt Schneck who also made the summer move to Devon, alsomanaged to claim a double-double with 10 points and 10 rebounds.
Win double
Just two days after belatedly securing their first BBL Championship success of the new season, London Lions made it a super weekend win double by edging out Durham Wildcats 79-76 to progress to the second round of the BBL Cup.
In the very first fixture of this seasons' prestigious BBL Cup competition, both teams served up an excellent encounter with Wildcats scaring the home team with a second half revival which set up a nerve-wracking finale as they almost sneaked an unlikely victory to overturn their dreadful start.
Lions continued where they left off in their previous game against Surrey Heat with a blistering opening, managing to storm into a healthy 25-13 lead after the first quarter and by the time the interval arrived, they still led by 12 points.
But, Wildcats' head coach Dave Elderkin made some adjustments and no doubt gave his team a real verbal bashing in the locker rooms and his players responded with an excellent second half performance.
Led by Paul Elderkin and Mike Baldarelli, the Wildcats hauled themselves straight back into contention as soon as they stepped out for the third quarter and posted a terrific 18-8 run which made it a one-shot game, much to Lions' surprise.
However, the hosts recovered and managed to keep their noses in front, building up a double-digit lead again in the final quarter although Wildcats still showed an impressive never-say-die spirit as they almost stunned Lions by forcing overtime.
Down 78-68 with just over a minute to play, the visitors enjoyed a magnificent last sixty seconds as they managed to manoeuvre themselves into a position to get the last shot of the game to tie and ensure the extra period, but Elderkin just couldn't get his last-ditch three-point effort to drop.
The victorious Lions will now host Jelson Homes DMU Leicester Riders in the second round thanks mainly to another powerful performance by Tayo Ogedengbe and Orlan Jackman who combined for 46 points.
Title favourites
Newcastle Eagles rubber-stamped their status as red-hot title favourites with a sensational performance to shoot down Glasgow Rocks 106-84 and spoil the party for their arch rivals who were christening their new home at the Commonwealth Arena.
Kareem Maddox was the main party pooper for the Eagles, following up his impressive work in the success against Manchester Giants 48 hours earlier, with a stellar display at both ends of the floor which culminated in a quite brilliant double-double of 29 points and 12 rebounds.
And, to add further salt into Rocks' wounds, 'Prince' Charles Smith once again tormented his former employers, this time conjuring up a majestic 31 points.
It was by far the best basketball played by Fab Flournoy and his players so far this season, and made even more satisfying since the momentum was with the hosts for a large chunk of the game.
With the tip-off delayed in order to let a big debut crowd take their seats, the Rocks got off to a flying start, helped by the loan deal they recently penned with Great Britain national team player Kieron Achara.
And, the Rocks' forward made his mark early with a couple of big blocks which fuelled the sense of anticipation and energy from the hometown favourites and their supporters who revelled in the proceedings as they moved 38-25 ahead.
It looked like the force was going to be very much with the Rocks, but discounting the Eagles is never an option as history suggests. Having worked their way back into the contest to claw back the deficit, the away team exploded offensively during the final quarter in quite spectacular fashion.
Having managed to edge ahead 67-66 at the end of the third period, the visitors hit a purple patch of extraordinary intensity and it allowed them to amass an eye-popping 40 points in the final quarter and stroll to victory.
Bragging rights
Cheshire Jets took the bragging rights in the north-west derby game after overpowering neighbours Mersey Tigers 88-64 to rack up their first success of the new campaign.
The Jets managed to establish an early lead with veteran forward Shawn Myers putting his team 18-7 ahead and opening up a double-digit advantage inside the first six minutes.
However, rather than imploding as many may have expected, the Tigers showed some real resilience and managed to hang on to eventually get a foothold in the game.
So much so, they managed to level matters at 30-30 through a Daniel Pilkington dunk from a nice assist by Josh McGinn but that only seemed to jolt the home team into action.
The Jets came alive after being briefly caught napping and managed to smash any dreams Tigers had of winning the game by ending the first half with a devastating 18-4 run.
It meant Tigers were chasing the game when they returned to the court after the break but could make no impression as Jets kept their foot on the accelerator to storm to victory.
Gabriele Haskins posted an efficient 17 points for Jets whilst Gael Hulson was the only player to reach double figures for the losing team with an impressive 19 points on debut.