Sky Sports signs new one-year deal with British Basketball
Sky Sports has agreed a new deal to show another year of the British Basketball League.
Last Updated: 17/10/12 2:25pm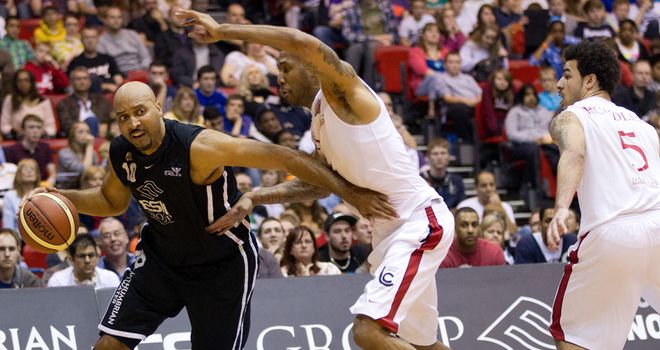 Coverage begins on Friday October 26 when the current British Basketball League champions Newcastle Eagles face the Leicester Riders in a repeat of last season's Play-off Final. The coverage will also include a weekly two-hour highlights package plus live games throughout the season.
The BBL, the top tier of men's basketball in Great Britain, is made up of one Scottish and 11 English franchises. The league features some of the sport's finest domestic players including Andrew Sullivan, from the Leicester Riders, who represented Great Britain at the London 2012 Olympics.
The BBL agreement continues a series of rights renewals for Sky Sports, with no less than 16 deals over the last 18 months, including Barclays Premier League and UEFA Champions League football, Formula 1, Test Cricket and European Tour golf.
Barney Francis, managing director of Sky Sports, said: "This deal proves our commitment to offering a wide variety of live sports for our customers. Sky Sports caters for a broad range of diverse content and our recent rights renewals give us the strongest line up of live sport for our viewers to watch at home or on the move."
BBL chairman, Paul Blake, said: "Last season's coverage was extremely well received throughout the sport and we are delighted to extend our relationship with Sky Sports into a third season. The coverage last term provided an excellent platform for BBL to showcase our exciting product and we anticipate this season it will be to an even higher standard."
Coverage will again be provided in conjunction with the BBL's broadcast partner, Televideo, and includes a minimum of four live games during the season. Paul Scivill, the managing director of Televideo, said: "We are thrilled to be continuing our partnership with the BBL. We are extremely excited about this season's coverage and the addition of more live games to the schedule."
2012/13 BBL fixtures on Sky Sports HD:
Friday October 26: Eagles v Riders
Sunday November 4: Rocks v Wolves
Sunday November 11: Wildcats v Raiders
Friday November 16: Giants v Jets
Friday November 23: Lions v Wolves
Sunday December 2: BBL Cup Semi-Final
Sunday December 9: Raiders v Eagles
Friday December 14: Eagles v Heat
Tuesday January 8: Lions v Raiders
Saturday January 13: BBL Cup Semi-Final
Friday January 18: Giants v Heat
Friday January 25: Raiders v Wildcats
Please note, the fixtures will be filmed on these dates and broadcast a few days later. The remaining schedule, including confirmation of live fixtures, will be issued later in the year.