Reigning NBA champions Miami Heat won their season-opener against Boston Celtics
The Miami Heat began the defence of their NBA title with a season-opening 120-107 victory over the Boston Celtics.
Last Updated: 01/11/12 7:29am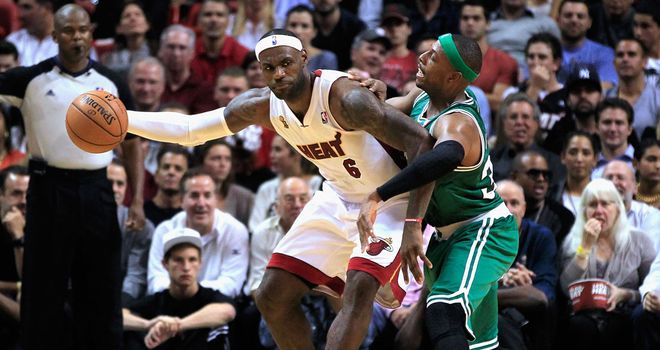 The Miami players were handed their championship rings ahead of the game and the party continued after their victory despite the best efforts of the Celtics to spoil the occasion.
The star triumvirate of LeBron James, Dwayne Wade and Chris Bosh led the way for the Heat along with new signing and former Celtic Ray Allen.
James managed 26 points and 10 rebounds despite having to spend much of the fourth quarter on the benches with leg cramps.
Wade added 29 points, Bosh scored 19 with 10 rebounds and Allen chipped in with 19 to rub salt into the wounds of his former team-mates.
The Celtics managed to trim the lead to four points late in the final period - Brazilian Leandro Barbosa scoring all his 16 points in the run - put the Heat's defence managed to keep Boston scoreless in the final 2:09.