Tony Parker gives San Antonio an 86-84 win over Oklahoma City
Tony Parker's buzzer-beater gave the San Antonio Spurs an 86-84 win over the Oklahoma City Thunder.
Last Updated: 02/11/12 7:49am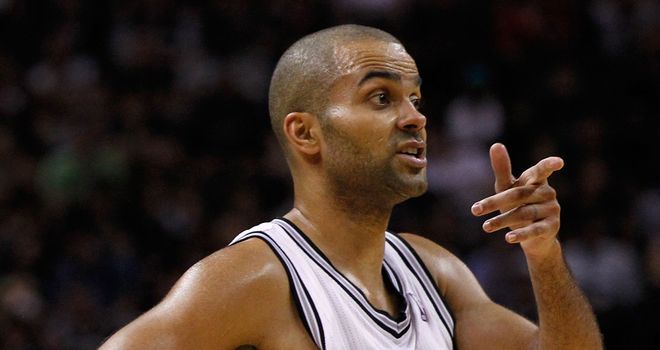 Parker sank a 21-footer as time expired to silence the home crowd and end a bad week for the franchise on another low note.
Oklahoma City traded star sixth-man James Harden on the eve of the season opener and struggled for offense in their first game, with only Kevin Durant and Russel Westbrook contributing from their starting line-up.
Durant scored 23 points and in doing so became the second youngest player - beaten by only LeBron James - to reach 10,000 points in the NBA.
But he looked shell-shocked after Parker's game-winner, standing silent under the basket for several seconds before walking off court with his head bowed.
Westbrook weighed in with 18 points and Kevin Martin - the main piece the Thunder received for Harden - added 15 off the bench, nine points coming from three three-pointers.
But it was the Spurs more-balanced line-up that came out on top with Parker making the most important basket to break the tie, running straight at shot-blocking sensation Serge Ibaka before stopping and calmly finding the basket to start huge celebrations in the crowd.
"I was like, I have to shoot fast," Parker said about eluding the outstretched arm of the 6-foot-10 Ibaka. "He was coming very fast."
The Frenchman scored 14 points with Tim Duncan leading Spurs scorers with 20 and eight rebounds.