NBA: Kevin Durant stars for Oklahoma City Thunder against Los Angeles Clippers
Kevin Durant poured in 35 points as the Oklahoma City Thunder beat the Los Angeles Clippers 117-111 in overtime.
Last Updated: 23/11/12 10:10pm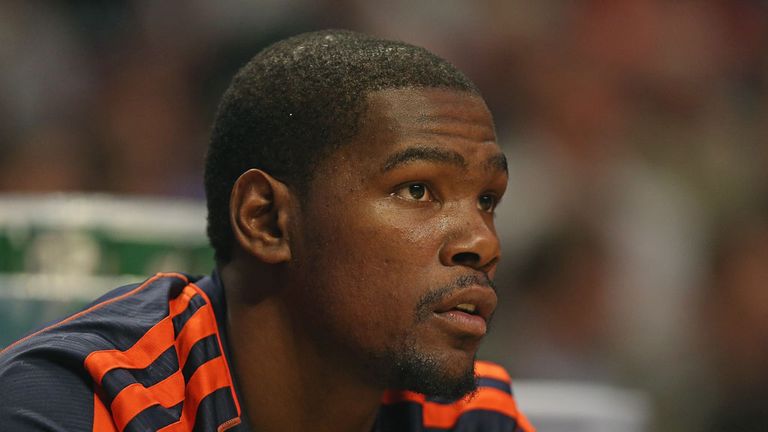 Durant and Westbrook, who himself scored 23 points, accounted for all of the Spurs' offence in overtime as they snapped the Clippers' six-game winning streak. Blake Griffin led the Clippers with 23 points while Jamal Crawford had 20.
The San Antonio Spurs joined the Thunder on nine wins as they beat the Boston Celtics 112-100 thanks to 26 points from Tony Parker, a season's best. Tim Duncan also shone for the Spurs with 20 points and 15 rebounds.
The Miami Heat reached the same 9-3 mark as they saw off the Milwaukee Bucks 113-106 in overtime. LeBron James and Dwayne Wade had 28 points apiece, with James also pulling down 10 rebounds, while Bosh added 18 rebounds to his 24 points.
OJ Mayo's 27 points helped the Dallas Mavericks overcome the New York Knicks 114-111. The Knicks, who had lost only once going into the game, rallied from 102-90 down to trail by just one point at 112-111, but Carmelo Anthony missed a go-ahead shot.
Paul George stepped it up after half-time to score a career-high 37 points in the Indiana Pacers' 115-107 victory over the New Orleans Hornets. George had only four points to his name by half-time but came to life thereafter.
The Washington Wizards' worst start to a season continued in agonising fashion as they lost 101-100 to the Atlanta Hawks in overtime. Kyle Korver's three-pointer from downtown with less than two seconds on the clock left the Wizards nursing an 0-10 record.
Kevin Love had 34 points and 14 rebounds on his comeback from a broken hand, but it was not enough for the Minnesota Timberwolves, who threw away a 17-point lead to lose 101-94 to the Denver Nuggets.
The Sacramento Kings claimed their first win in six by beating the Los Angeles Lakers 113-97 and the Golden State Warriors overcame the Brooklyn Nets 102-93.
Jeremy Pargo poured in 28 points as the Cleveland Cavaliers beat the Philadelphia 76ers 92-83 while the Orlando Magic beat the Detroit Pistons 90-74.
The Charlotte Bobcats edged out the Toronto Raptors 98-97, the Houston Rockets saw off the Chicago Bulls 93-89 and the Phoenix Suns were 114-87 winners over the hapless Portland Trail Blazers.