NBA: Kobe Bryant is youngest player ever to score 30,000 points
Kobe Bryant became the youngest player ever to score 30,000 points.
Last Updated: 06/12/12 10:47am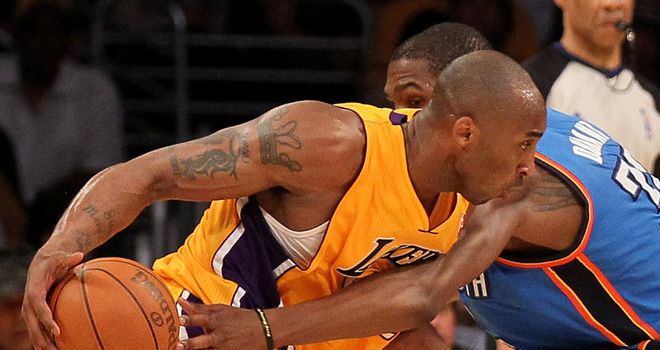 Bryant scored 29 points to become the fifth NBA player to exceed the milestone. At 34, he reached the landmark a little over a year younger than the previous record-holder, Wilt Chamberlain.
Elsewhere, JR Smith scored a jump shot on the buzzer to give the New York Knicks a 100-98 win over the Charlotte Bobcats.
Carmelo Anthony scored 23 points for the Knicks, with Smith making the pivotal intervention after intercepting a pass from Michael Kidd-Gilchrist when the Bobcats looked set to snatch the win themselves.
It was Al Horford who shone with 25 points and 12 rebounds as the Atlanta Hawks edged out the Denver Nuggets 108-104.
Tony Parker and Gary Neal each scored 22 points as the San Antonio Spurs beat the Milwaukee Bucks 110-99 in their 15th win of the season, while Kevin Garnett scored 18 points with 10 rebounds against his old team as the Boston Celtics beat the Minnesota Timberwolves 104-94.
In the Utah Jazz's 87-81 win over the Orlando Magic, Al Jefferson had a big day with 31 points and 15 boards, while DeMarcus Cousins had 25 points and 13 rebounds to lead the Sacramento Kings to a 107-100 victory over the Toronto Raptors.
The Chicago Bulls eased to a 95-85 victory over the Cleveland Cavaliers, with 23 points from Marco Belinelli and 22 from Luol Deng.
Klay Thompson led the Golden State Warriors with 27 points as they saw off the Detroit Pistons 104-97. The Indian Pacers beat the Portland Trail Blazers 99-92 with the Los Angeles Clippers overcoming the Dallas Mavericks 112-90.