NBA: Golden State Warriors leave it late against the Miami Heat
The Golden State Warriors took home a massive 97-95 victory over the Miami Heat thanks to Draymond Green's late lay-up.
Last Updated: 13/12/12 9:37am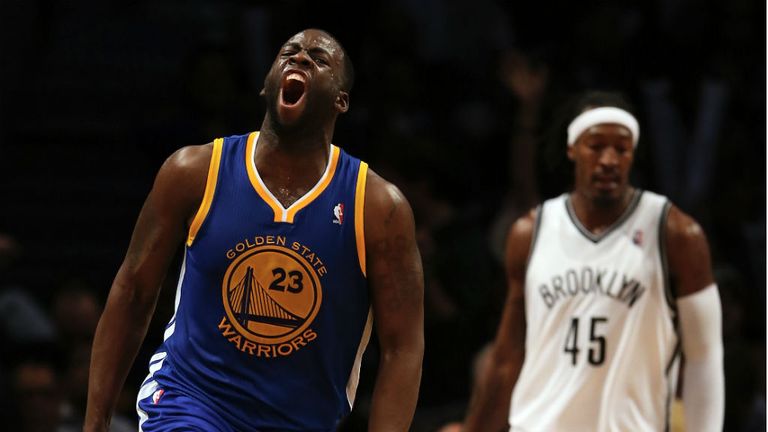 The Warriors extended their winning streak to five games - and it was rookie Green who was the hero when he converted a lay-up with 0.9 seconds left on the clock.
Lebron James was dominant for the Heat, scoring 31 points - however Klay Thompson led Golden State with 27 points and the young team are early candidates for most improved team of the season.
Golden State might be hot, but not as hot as the scorching Oklahoma City Thunder, who have now won nine games on the bounce as they strive to reach the NBA finals once again.
The Thunder were down 11 points at half-time stormed back to grab a 92-88 victory over the New Orleans Hornets. Kevin Durant poured in 35 points and Butch Roberts had 16 for the Hornets.
In another game that went down to the wire, Utah grabbed a late victory with a three-pointer from Mo Williams at the buzzer - with the remarkable shot seeing the Jazz win the game 99-96.
Tim Duncan turned back the clock once more to record 21 points and 20 rebounds but it wasn't enough following Williams' match-winner and a 24-point, 12-rebound haul from Paul Millsap.
Goran Dragic also landed a late match-winning basket as the Phoenix Suns topped the Memphis Grizzles 82-80 and ended a seven-game losing streak.
The Los Angeles Clippers took down the Charlotte Bobcats 100-94 as 19 points and 10 assists from Chris Paul saw them extend their winning streak to eight games.
In a double overtime victory, the Boston Celtics finally dismantled the struggling Dallas Mavericks 117-115. Paul Pierce was the high man with 34 points.
The Sacramento Kings could not stop Brandon Jennings scoring 19 points to lead the Milwaukee Bucks to a 98-85 win, while 22 points and 11 rebounds from Nikola Pekovic lifted the Minnesota Timberwolves to a 108-105 victory over the Denver Nuggets.
The Brooklyn Nets snapped their losing streak at five games as they shut down the Toronto Raptors 94-88 on the road, while Paul George weighed in with 27 points as the Indiana Pacers came from 16 points down to beat the Cleveland Cavaliers 96-81.
Reigning NBA player of the week Josh Smith scored 16 points for the Atlanta Hawks in an 86-80 win over the Orlando Magic, meanwhile the Houston Rockets topped the Washington Wizards 99-93 behind 31 points from James Harden.
The Chicago Bulls won a fourth straight road game as Joakim Noah scored 21 points and British forward Luol Deng added 19 points and 12 rebounds in a 96-89 victory over the Philadelphia 76ers.