Rajon Rondo leads the Boston Celtics to Christmas victory over Brooklyn
Rajon Rondo scored 19 points to help the Boston Celtics to a 93-76 Christmas Day win over the Brooklyn Nets.
Last Updated: 26/12/12 8:06am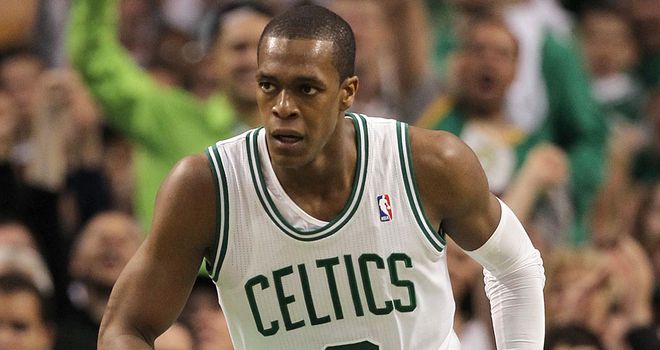 Rondo provided much of the impetus for the Celtic, top scoring and contributing six rebounds and five assists in a one-sided encounter at the Barclays Center in Brooklyn.
The Celtics made a successful start to a four-game road trip, pulling level with the Nets at 14-13 for the season, with both clubs sharing second place in the Atlantic Division behind the New York Knicks.
Jared Sullinger scored 16 points for the Celtics while Jeff Green added 15 points - both players coming off the bench - and Kevin Garnett had eight points and 10 rebounds for Boston, who had lost twice to Brooklyn earlier this season.
After the Nets battled back within eight points, the Celtics scored the last seven points of the third quarter to seize a 73-68 lead. Rondo had nine of Boston's 17 points in the third quarter to spark the visitors.
Brook Lopez and Gerald Wallace each scored 15 points to lead Brooklyn while Joe Johnson added 12 in a losing cause.
The Knicks missed out on a chance to restore their advantage when they went down 100-94 to the Lakers in a thrilling game in Los Angeles.
Kobe Bryant scored 34 points for the Lakers and in doing so became the highest-scoring player in Christmas Day matches, passing an NBA legend in Oscar Robertson.
The game was still up for grabs until the closing seconds when Pau Gasol (13pts) drove to the basket for a key score that put the Knicks out of range for good.
The Miami Heat once again got the better of the Oklahoma City Thunder, LeBron James' 29 points helping the reigning NBA champions triumph 103-97 in a repeat of last season's finals.
James added nine assists and eight rebounds while Dwyane Wade had 21 and Mario Chalmers contributed a season-high 20 as the Heat stretched their winning streak to five games.
Meanwhile, James Harden scored 26 points and Jeremy Lin added 20 points and 11 assists as the Houston Rockets defeated the Chicago Bulls 120-97.
The Rockets, who are sixth in the Western Conference, improved to 15-12 with their fourth successive victory.
Chandler Parsons added 23 points for the Rockets, who outscored the Bulls 31-19 in the second quarter and 36-27 in the third period, pulling ahead by as much as 86-51 late in the third quarter.
Elsewhere, Jamal Crawford poured in 22 points to help the Los Angeles Clippers - who are now 22-6 - defeat the Denver Nuggets 112-100.