NBA: LeBron James pours in 36 points as Miami Heat beat Orlando Magic
LeBron James' remarkable scoring streak continued as he led the Miami Heat to victory over the Orlando Magic.
Last Updated: 01/01/13 8:30am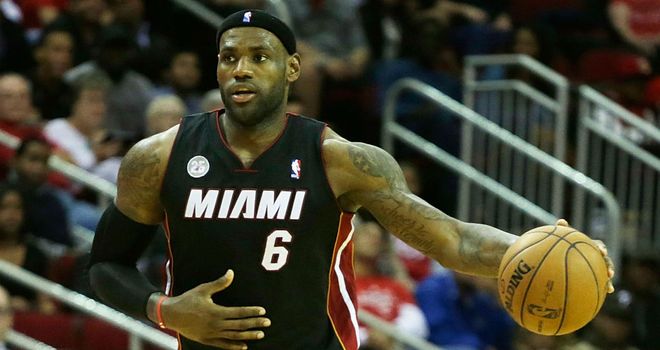 James had 36 points, 11 assists and eight rebounds, meaning he has now scored at least 20 points in each of the Heat's first 29 games this season.
Chris Bosh had 22 points and Dwayne Wade 21, while Arron Afflalo led the Magic with 28 points.
The Charlotte Bobcats finally brought their losing streak to an end with a 91-81 win over the Chicago Bulls.
Kemba Walker scored 18 points and Gerald Henderson 16 to help the Bobcats snap an 18-game losing run, ensuring they did not end December without a win in the month.
Luol Deng paced the Bulls with 20 points and 12 rebounds.
Kevin Durant poured in 30 points to lead the Oklahoma City Thunder to a 114-96 win over the Phoenix Suns.
The Thunder also got a strong performance from Russell Westbrook, who had 24 points, nine assists and seven rebounds despite missing seven minutes of the game when he suffered a cut above his eye.
The San Antonio Spurs stretched their winning streak to six games with a 104-73 win over the Brooklyn Nets thanks to 20 points from Tony Parker.
MarShon Brooks scored 16 points from the bench for the Nets, who managed only five points in the third quarter.
James Harden's 28 points helped the Houston Rockets to a 123-104 win over the Atlanta Hawks, while the Indiana Pacers beat the Memphis Grizzlies 88-83.