NBA: Los Angeles Clippers halt two-game losing run after beating the Lakers
Chris Paul had 30 points and 13 rebounds as the Los Angeles Clippers held off Kobe Bryant and the Los Angeles Lakers.
Last Updated: 05/01/13 11:41am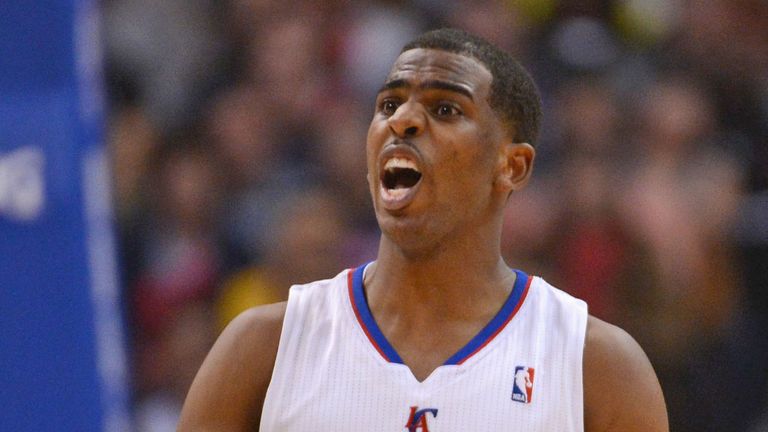 The Clippers, who had lost their previous two matches after winning 17 straight, controlled the match until the fourth quarter, which the Lakers won 31-20.
Sixteen of those points went to Bryant, who had 38 in total, but it was not enough for the Lakers, who slipped 10 games behind their city rivals.
Carlos Boozer's 27 points helped the Chicago Bulls overcome LeBron James and the Miami Heat, sealing a 96-89 win at the American Airlines Arena.
Boozer also pulled down 12 rebounds as the Bulls had 48 boards in total, 20 more than their opponents.
James, who played despite a slight knee injury, scored 30 points to extend his streak of scoring 20 or more to 31 games this season and 52 overall.
Russell Westbrook scored 27 points as the Oklahoma City Thunder pulled away in the second half to beat the Philadelphia 76ers 109-85.
Kevin Durant added 26 points for the Thunder, who were down by a point just before the end of the first half but dominated from then on.
The Washington Wizards slipped to a tough-luck loss as Joe Johnson's jump shot in the final second of second overtime gave the Brooklyn Nets a 115-113 win.
Brook Lopez paced the Nets with 27 points and 13 rebounds, while Bradley Beal had 24 points for the Wizards, whose record fell to 4-27.
Kyrie Irving's 33 points lifted the Cleveland Cavaliers to a 106-104 win over the Charlotte Bobcats.
Irving was on fire in the second half, scoring 26 points including the winning jump shot with a second remaining.
DeMarcus Cousins poured in 31 points to lead the Sacramento Kings to a 105-96 win over the Toronto Raptors, while James Harden's 29 points lifted the Houston Rockets to a 115-101 victory over the Milwaukee Bucks.
The Boston Celtics, who had Kevin Garnett ejected in the fourth quarter, beat the Indiana Pacers 94-75 and the Detroit Pistons saw off the Atlanta Hawks 85-84.
The Portland Trail Blazers beat the Memphis Grizzlies 86-84 and the Utah Jazz were 87-80 winners over the Phoenix Suns.