NBA: Washington Wizards post dramatic 101-99 win over Oklahoma City Thunder
Washington Wizards netted a dramatic 101-99 win over Oklahoma City Thunder thanks to a late basket from Bradley Beal.
Last Updated: 08/01/13 8:46am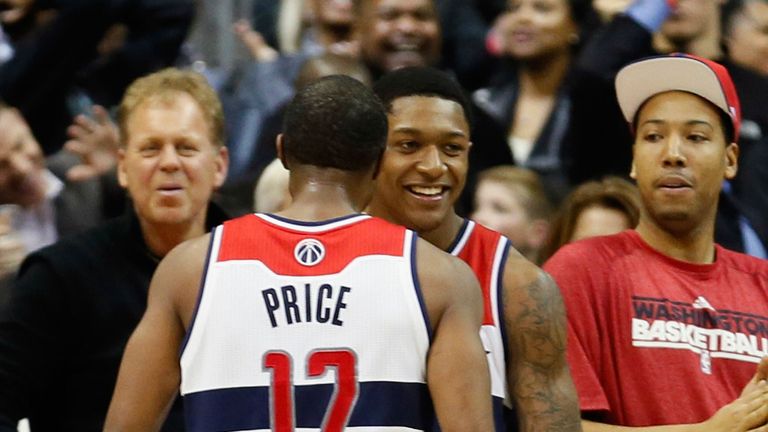 Just 0.3 seconds were left on the clock when Beal - joint top-scorer for the Wizards with 22 points - pump faked before scoring with a jump shot to earn his team only their fifth win in 33 games this season.
Kevin Durant led Oklahoma City (26-8) with 29 points and his dunk with two minutes left reduced the deficit to one point at 95-94, after his side missed 16 straight shots from midway through the third quarter to midway through the fourth quarter.
Martell Webster answered with a four-point play to give the Wizards a 99-94 lead. Then, Serge Ibaka made a jumper, and Durant made a three-pointer with 36 seconds left to tie the game at 99 before Beal's late score stole the game back for the Wizards.
Boston Celtics beat the New York Knicks 102-96 in the first meeting of the season between the Atlantic Division rivals.
Paul Pierce led the way with 23 points, while Kevin Garnett added 19 points and 10 rebounds for the Celtics who are back at .500 with 17 wins and 17 defeats. JR Smith with 24 points top-scored for the Knicks, who still lead the division, four wins clear of Brooklyn.
Portland Trail Blazers needed overtime to beat out of form Orlando Magic 125-119.
Wesley Matthews led the scoring with 24, while JJ Hickson added 20 points and 15 rebounds for his 20th double-double this season as the Magic suffered their ninth straight defeat.
Chicago Bulls crushed the Cleveland Cavaliers 118-92, with Carlos Boozer leading the way for Tom Thibodeau's side.
Boozer compiled 24 points and 11 rebounds, in what was the third straight game the 31-year-old surpassed 20 points. Joakim Noah registered 11 points and 11 rebounds while Luol Deng had 19 points and seven assists for the Bulls, who beat the Cavaliers for an 11th straight time. Dion Waters paced Cleveland with 18 points, while CJ Miles and Kyrie Irving had 15 apiece.
Struggling New Orleans picked up only their ninth win of the season after they beat San Antonio - who had won eight of their last nine - 95-88.
Eric Gordon's six successive points in the fourth quarter gave his side much needed breathing space as the 24-year-old ended the game with 24 points. Anthony Davis weighed in with 17 points and Greivis Vasquez 14, while Manu Ginobili led the Spurs with 21.
Gordon Hayward's season-high tally of 27 points led Utah Jazz to a 100-94 win over the Dallas Mavericks.
Hayward sunk four three-pointers while Alec Burks added 13, with eight of those coming in the fourth quarter as the Jazz moved to 18-18. Dirk Nowitzki led the Mavs with 20 points, including six late on, but he was also called for a charge with 32 seconds remaining as he tried to get Dallas within two. The Jazz made four of six free throws in the closing stages to complete the win.
Memphis Grizzlies were too strong for the Sacramento Kings as they eased to a 113-81 win in California.
Wayne Ellington scored 26 points, including six three-pointers, while Zach Randolph scored 17 points and had seven rebounds. For the hosts, John Salmons top-scored with 17 points, Jason Thompson had 12 and DeMarcus Cousins had 10 and eight rebounds.