New York Knicks legend John Starks excited at basketball's growth in UK
Knicks legend John Starks says NBA games in the UK are as exciting as those played in the States.
By Emma Bird
Last Updated: 16/01/13 4:06pm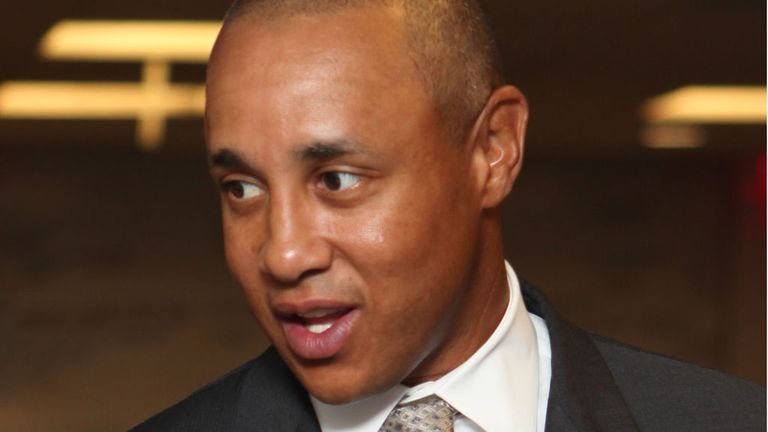 With the third NBA regular-season game taking place this week, former shooting guard Starks told skysports.com: "I think it's great, I think it's exciting. The fans show their excitement for the NBA; the way the game was sold out in four days, which is the fastest ever I've heard.
"Basketball at the professional level here is just continuing to grow. For me personally, this is my first time over in London and so it's always great to come over to an area that you've never seen before and really take in the culture.
"I think it's continuing to get bigger and better as the years go by. Basketball is a very popular sport around the world now and you see the young people playing it over here (the UK). As the game continues to grow over here you will see more excitement continue to build."
Following the success of the London Olympics in 2012, Starks praised the British venues, such as the 02, as being of the highest standard.
He added: "Off the heels of the Olympics, and talking to players that came here before, they say it's nothing but the best.
"I'm excited to see the game myself on Thursday; I've seen a lot of basketball and I know this is going to be just as exciting as the games I played in the States."
Starks, who had an outstanding eight-year career with the New York Knicks, believes that the current players preparing for the clash later this week will be relishing the opportunity to play here in Britain.
"They love it!" he continued. "I know being a former player, I remember when we travelled over to Barcelona in my first year, it was just a great experience. The guys love coming into different countries and being able to play and showcase their talent and see different fans."
See Detroit Pistons v NY Knicks, live from 7.30pm, Thursday, Sky Sports 1 HD and Sky 3D
Limited tickets for NBA London Live 2013 presented by adidas are still available from the NBA's official secondary ticketing partner, StubHub, visit www.stubhub.co.uk for more information and to purchase tickets.