NBA in London: Carmelo Anthony adds NBA victory to Olympic gold
Carmelo Anthony enjoyed another memorable trip to London as he added an NBA victory to his Olympic gold.
Last Updated: 18/01/13 9:03am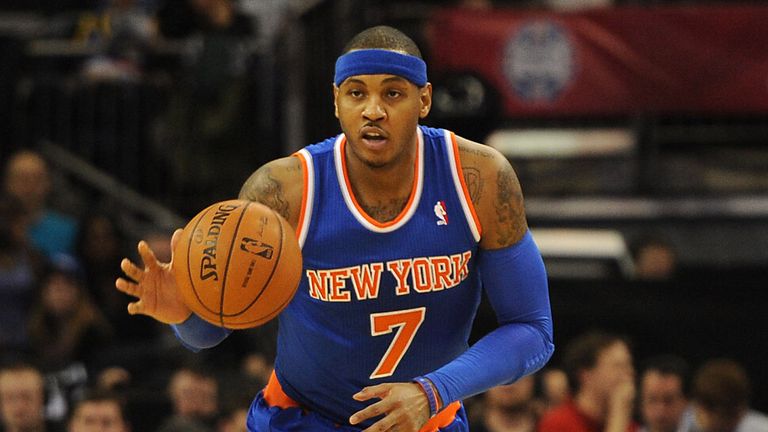 As one of the leaders of the United States team that took gold during the Games, Anthony returned to North Greenwich on Thursday night to put in another star performance, securing 26 points in the Knicks' 102-87 victory over a young Detroit Pistons team.
Anthony, who helped the Knicks explode into a 16-2 lead they never surrendered in this regular-season contest said: "It felt good out there.
"The crowd was fantastic. It's a sell-out crowd, there was great energy in the building and everybody has come out to support the New York Knicks, the NBA as a whole, the Detroit Pistons.
"I definitely had some flash backs running out on court."
Another member of the all-conquering United States team, Tyson Chandler, added 10 points and 14 rebounds, while Amar'e Stoudemire scored 17 and JR Smith 16.
The game attracted a mammoth crowd of 18,689, and saw elite level basketball return to the capital for the first time since Anthony, Chandler and company beat Spain 107-100 in August's final.
During that time, it was hoped the Olympics would spur Britain to embrace the world's second most popular team sport. However, in December British Basketball received a huge blow as UK Sport announced it was cutting all funding from the national teams ahead of the Rio Games in 2016.
It was a decision that stunned the wider basketball community. Patrick Baumann, secretary general of world governing body FIBA, has this week confirmed his intention to fly to London to speak personally to UK Sport when British Basketball appeal the decision on January 30.
Enthusiastic
David Stern, NBA commissioner, also added his voice to the critics.
He said:"Before the Olympics, basketball was being talked about as a sport being played in neighbourhoods in a country bemoaning the fact they had shut down so many playing fields. The decision confounded me."
Stern was enthusiastic about the reception the NBA received in London, with Thursday night being their 11th game here of any kind since 1993, and third regular-season game in the past two years.
He added: "The basketball fans are terrific. Whatever the government may be doing in terms of the development of the youth game or potentially the elite level, we're here, the Olympics were a great success, the Euroleague final four is coming and we couldn't be happier."