Oklahoma City beat Dallas in a thriller and Kevin Durant bagged 52 points
Kevin Durant notched a career-high 52 points as the Oklahoma City Thunder defeated the Dallas Mavericks 117-114.
Last Updated: 19/01/13 11:01am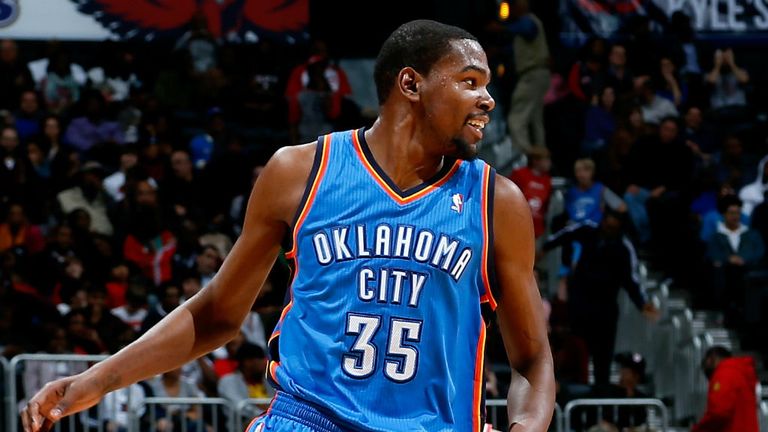 Durant was a perfect 21 from 21 at the free-throw line and Russell Westbrook chipped in with 31 points for the visitors, who won their sixth straight game and took their NBA-leading record to 32-8.
However, Durant missed some crucial shots in the fourth quarter and Dallas (17-24) made up a nine-point deficit, forcing overtime when O.J. Majo connected with a three-pointer with just 2.3 seconds remaining.
But Durant quickly found his range again and scored nine of the Thunder's 12 points in the extra period as they held on to win when Mike James failed with a late three-point shot.
The Mavericks had a four-game winning streak halted despite 29 points off the bench from Vince Carter and 18-point hauls from Mayo and Dirk Nowitzki.
Durant said: "I knew (about closing in on a career-high haul) but I was just trying to focus on the game and get us this win.
"I had missed like eight shots in a row but my team mates kept telling me to be aggressive and they were giving me confidence every time.
"Everybody is going to bring their best against us and Dallas is a championship level team, no matter what their record is. I'm glad we gutted this one out."
There was another overtime game out East in Boston and the visiting Chicago Bulls stunned the hometown Celtics 100-99.
Marco Belinelli made a game-winning jumper with 3.1 seconds left for the Bulls while Carlos Boozer had 19 points and 20 rebounds, Joakim Noah adding 14 points and 13 boards.
Remarkably, the Bulls have now won 14 straight road games on a Friday - their last defeat was back in April 2011.