NBA: Oklahoma City beaten by Denver in overtime thriller
Oklahoma City Thunder lost 121-118 to the Denver Nuggets to leave them tied with LA Clippers as the NBA's leading side.
Last Updated: 21/01/13 8:51am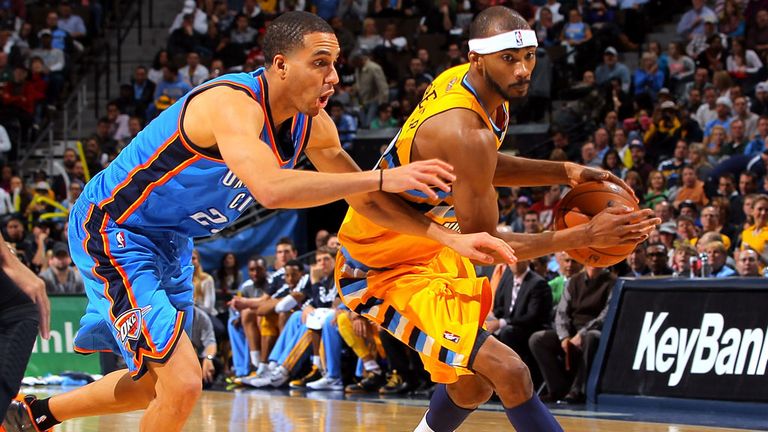 Thunder boast a season-record of 32-9 but they were unable to take the record outright after Kenneth Faried scored the go-ahead lay-up in overtime to seal victory on the night for the Nuggets.
Denver's Corey Brewer notched up 26 points, including 15 in the final quarter, as they recovered from a 20-point defeat to Oklahoma City last week.
Danilo Gallinari also chipped in with 18 points as Oklahoma City were beaten for the first time in five overtime games this season, despite 37 points from Kevin Durant and 36 from Russell Westbrook.
Elsewhere, the Detroit Pistons showed no sign of weariness following their trip to London as they defeated the Boston Celtics 103-88.
Rookie Andre Drummond had 16 points and seven rebounds, while also making 6 of 8 free throws for Detroit, as they blew an 18-point second-quarter lead before pulling away again in the second half.
Kevin Garnett scored 16 points for Boston, who were unable to edge into the lead at point in the contest.
Meanwhile, Dallas' Shawn Marion scored 20 points, with O.J. Mayo and Vince Carter bagging 15 apiece, as the Mavericks held off a late Orlando Magic rally to win 111-105.
The Mavericks led by 13 in the fourth quarter before the Magic recovered to within a basket in the final minute, only for Dallas to hold on.
Glen Davis' 24 points led the way for Orlando but they have now lost seven straight games against opponents with a sub-.500 record.