NBA: Carmelo Anthony scores 28 points as New York Knicks beat Boston Celtics
Carmelo Anthony scored 28 points as the New York Knicks claimed an 89-86 win over the Boston Celtics at TD Garden.
Last Updated: 28/01/13 12:41pm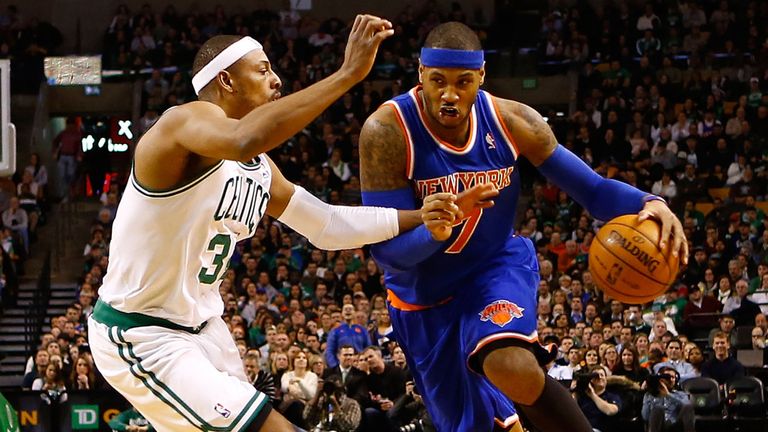 In the first meeting between the Knicks and Celtics since a much-publicised confrontation between Anthony and Celtics star Kevin Garnett, the home team came out on top in an amicable encounter.
Boston point guard Rajon Rondo posted a triple-double of 23 points, 11 assists and 10 rebounds while Paul Pierce contributed 22 points to what was ultimately a losing effort.
New York pulled away from their opponents at the end of the third and start of the fourth quarter as the Celtics were left with too much to do after falling to a 10-point deficit with just over seven minutes left.
The victory improves the Knicks' record to 26-14 and takes them a full game ahead of the Brooklyn Nets atop the Atlantic Division.
The Toronto Raptors, also of the Atlantic Division, edged the Orlando Magic 97-95 with DeMar DeRozan scoring 22 points
DeRozan produced the goods when it matters, 14 of his points coming in the final quarter, including the game-winning point jump shot right on the buzzer.
The Phoenix Suns upset their in-form Pacific Division rivals the Los Angeles Clippers 93-88, with Goran Dragic scoring 24 points.