NBA: Los Angeles Lakers defeat Utah Jazz for first time this season to end skid
The Los Angeles Lakers put an end to a four-game losing streak with a 102-84 triumph over the Utah Jazz.
Last Updated: 28/01/13 12:41pm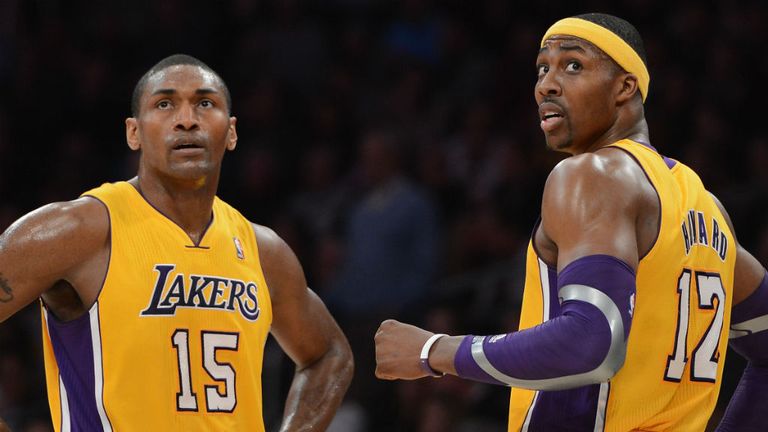 Metta World Peace and Dwight Howard both scored 17 points apiece, the latter adding 13 rebounds, while Kobe Bryant had 14 points and 14 assists for the Lakers.
It was their first win in three meetings with the Jazz this season, though they remain seven games below .500.
Elsewhere, the Atlanta Hawks needed double overtime to beat the Boston Celtics 123-111. Josh Smith sparked the sixth-period surge with three points on his way to a double-double of 17 points and 14 rebounds.
Boston's Rajon Rondo had 16 points, 11 assists and 10 rebounds, his fifth triple-double of the season, in a losing cause for the Celtics.
The Miami Heat eased past the Detroit Pistons 110-88 with 29 points from Dwyane Wade, while the Washington Wizards beat the Minnesota Timberwolves 114-101 for only their 10th win of the season.
The San Antonio Spurs defeated the Dallas Mavericks 113-107, Tony Parker scoring 23 points despite missing almost a full quarter due to a cut above his eye, and the Memphis Grizzlies hammered the Brooklyn Nets 101-77.
James Harden's 30-point haul led the Houston Rockets to a 100-82 win over the New Orleans Hornets, who confirmed earlier this week that they would be changing their name to the Pelicans for next year.
The Oklahoma City Thunder remain in control of the North-West Division after a 105-95 win over the Sacramento Kings, Kevin Durant and Kevin Martin with 24 points apiece.
Central Division pair Chicago and Cleveland both won as well, the Bulls beating the Golden State Warriors 103-87 with 25 points from Kirk Hinrich while the Cavaliers used 35 from Kyrie Irving to edge out the Milwaukee Bucks 113-108.