NBA: Washington Wizards beat Chicago Bulls to record seventh win in 10 games
The Washington Wizards beat the Chicago Bulls 86-73 to record their seventh win in 10 NBA games.
Last Updated: 28/01/13 12:40pm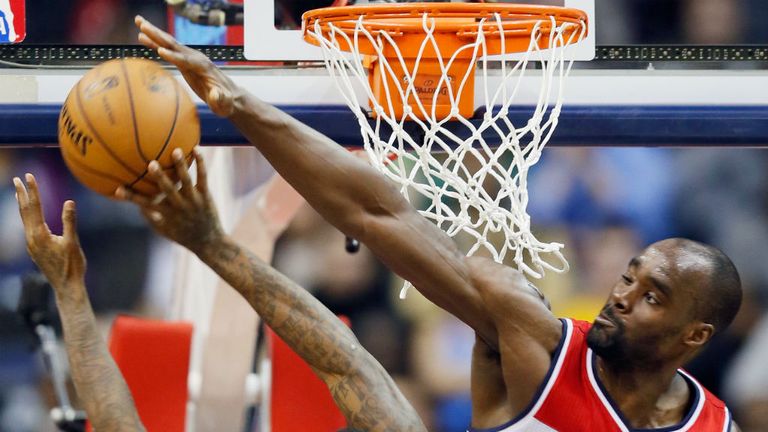 Emeka Okafor's 15 points and 16 rebounds helped decide a low-scoring game, backed up by Nene (16) and John Wall (15). For Chicago, only Nate Robinson (19) reached double figures.
Fellow South-East Division strugglers the Charlotte Bobcats also picked up their 11th win of the season, Gerald Henderson's late three-pointer edging them past division leaders the Miami Heat 102-101 as Kemba Walker scored 25 points.
The Cleveland Cavaliers, another team in form after a dismal start to the campaign, won their fourth game in five by beating the Toronto Raptors 99-98.
Kyrie Irving was the key player with 32 points, including the crucial last-second three-pointer.
Pacers defeated
Central Division rivals the Milwaukee Bucks were also victorious, 109-102 against the Golden State Warriors, but leaders the Indiana Pacers were beaten in overtime by the Utah Jazz. Al Jefferson scored 25 points and Paul Millsap 21 to lead the North-West Division side to a 114-110 win.
Denver pulled closer to North-West pace-setters the Oklahoma City Thunder with a comfortable 121-93 win over the Sacramento Kings, led by Ty Lawson's 26 points, while the Portland Trail Blazers upset the Los Angeles Clippers 101-100. Nicolas Batum was the star with a triple-double of 20 points, 10 rebounds and a career-high 12 assists.
The San Antonio Spurs and Houston Rockets marched on in the South-West with wins over the Phoenix Suns and Brooklyn Nets respectively.
Tony Parker's 31 points led the Spurs to a 108-99 home win while James Harden (29) starred in Houston's 199-106 success.
Atlantic Division leader the New York Knicks were beaten 97-80 by divisional rivals the Philadelphia 76ers, Jrue Holiday with 35 points.