NBA: LeBron James scores 30 points in Miami Heat's win over Toronto Raptors
LeBron James and Chris Bosh led the way as the Miami Heat cruised to a 100-85 win at the Toronto Raptors on Sunday.
Last Updated: 04/02/13 11:40am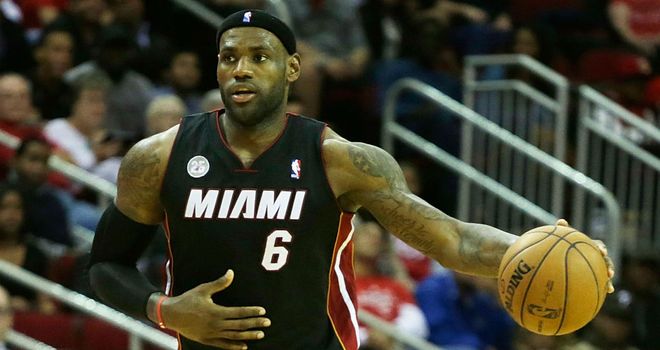 James top scored on the night with 30 points and Bosh chipped in with 28, including 13 in the fourth quarter, against his former employers.
Rudy Gay had 29 points and DeMar DeRozan 27 in a losing cause for the Raptors.
The Heat - who improved to 30-14 for the season - have now won 10 straight against the Raptors (17-31).
Also on Sunday, Paul Pierce poured in 22 points as the Boston Celtics (24-23) claimed their fourth straight victory, 106-104 against the Los Angeles Clippers (34-15).
And the Los Angeles Lakers (22-26) held on for a 98-97 win at the Detroit Pistons (18-30).
The Lakers wasted an 18-point, third-quarter lead but went back in front for good thanks to Kobe Bryant's driving three-point play with just over a minute remaining. Pau Gasol led all scorers with 23 points and 10 rebounds.