NBA: LeBron James scores 30 points again as Miami Heat beat LA Clippers
LeBron James score 30 points again as the Miami Heat coasted to a 111-89 victory over the Pacific leaders LA Clippers.
Last Updated: 09/02/13 1:29pm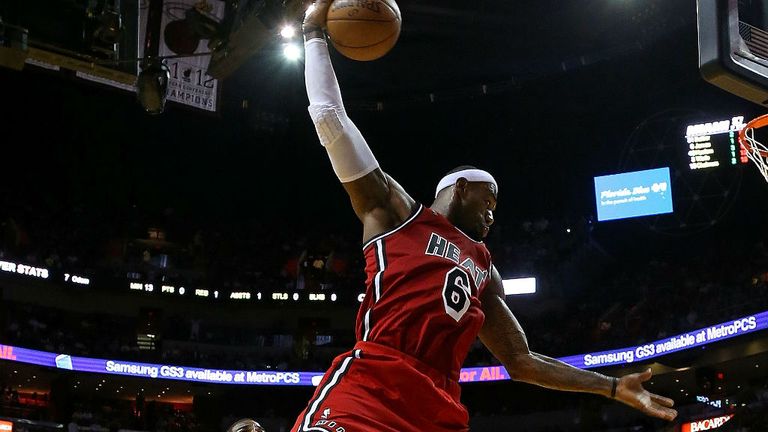 James poured in 30 points and Dwayne Wade contributed 20 as strong showings in the second and third quarters allowed the Heat to rest their star man in the final period.
James has now reached or surpassed 30 points in each of his last four games to become - alongside Wade - only the second player to hold such a streak for Miami in 25 years.
Another all-time great, Kobe Bryant, came to the fore as the Los Angeles Lakers overturned a 20-point deficit to record a 100-93 win over the Charlotte Bobcats.
The team with the worst record in the NBA this season looked on course for victory when they led 71-51 midway through the third quarter, but Bryant led a stunning fightback and finished with 20 points, eight assists and seven rebounds to hand the Bobcats their sixth consecutive defeat.
The Orlando Magic are the only team with a worse run of results than the Bobcats and they also failed to halt their losing streak, going down 119-108 against the Cleveland Cavaliers.
Kyrie Irving led the way with 24 points for the Cavaliers - who pulled away in the second half with the scores tied at 56-all after the first two periods - as the Magic slumped to their 12th straight defeat.
Rudy Gay and Amir Johnson proved the difference as the Toronto Raptors claimed a thrilling 100-98 overtime win over the Indiana Pacers.
Gay scored 17 of his 23 points in the final quarter and the extra period, with Amir Johnson sending the game into overtime courtesy of a tip-in on the buzzer.
Carmelo Anthony scored 36 points for the New York Knicks, who came from 76-70 down at the end of the third quarter to see off the Minnesota Timberwolves 100-94.
The Oklahoma City Thunder routed the Phoenix Suns 127-96 for their third successive win and the San Antonio Spurs lost for the first time in 12 games with a 119-109 defeat against the Detroit Pistons.
The Washington Wizards claimed their eighth win in nine home games by beating the Brooklyn Nets 89-74, while Greivis Vasquez had his first career triple-double - 21 points, 12 assists and 11 rebounds - as the struggling New Orleans Hornets claimed a 111-100 victory over the Atlanta Hawks.
Al Jefferson's 32-point haul was not enough to stop the Utah Jazz crashing to a 93-89 defeat against the Chicago Bulls, while James Harden's 35-point haul led the Houston Rockets to a 118-103 win over the Portland Trail Blazers and the Memphis Grizzlies overhauled the Golden State Warriors 99-93.