NBA: Miami Heat aim to overcome flu bug against Los Angeles Lakers
The Miami Heat hosts the Los Angeles Lakers on in possibly the highest-profile fixture in the league today.
Last Updated: 10/02/13 6:04pm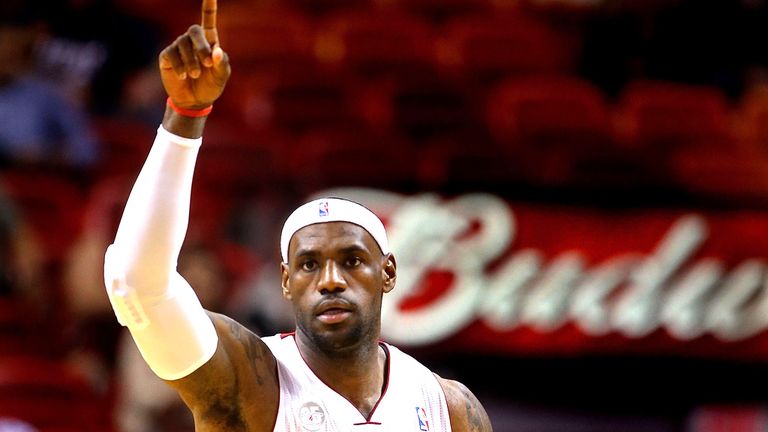 The Lakers' history of success and 'Showtime' reputation ensures they are never far from the media spotlight, while the Heat are the defending champions and have a roster full of stars.
Miami, who currently sit atop the Eastern Conference standings, could be forced to field a depleted line-up on Sunday, however, with Chris Bosh, Dwayne Wade and Ray Allen all suffering from flu-like symptoms.
Bosh and Allen had to sit out Friday's win over the Clippers but Wade managed to take to the floor despite feeling under the weather.
The biggest star of them all, LeBron James, scored 30 points in the win over the Clippers and will once again be expected to carry the burden at AmericanAirlines Arena on Sunday.
"Everybody is managing something right now, really," Heat head coach Erik Spoelstra told the Miami Herald.
"You're either managing some kind of knick-knack injury or something a little bit more than a knick-knack injury. Nobody feels 100 per cent. We've been doing quite a bit of traveling - it's going around everywhere."
The Lakers will have to deal with a high-profile absentee of their own as forward Pau Gasol has been ruled out for around two months with a foot injury.
Kobe Bryant, who is averaging 27.4 points per game this season, will be present and the battle between him and James - the two most prominent players of the modern era - will draw the same attention and analysis as usual.
The Lakers endured an awful start to their campaign before recovering to win seven of the last nine, but at 24-27 there is still plenty of work to do.
LA Lakers @ Miami Heat, Sunday February 10, 8.30pm, Sky Sports 2HD