BBL Trophy: Cheshire Phoenix beat Worthing Thunder to make semi-finals
Cheshire Phoenix will face Sheffield Sharks in the BBL Trophy semi-finals after beating Worthing Thunder 106-61.
Last Updated: 10/02/13 8:05am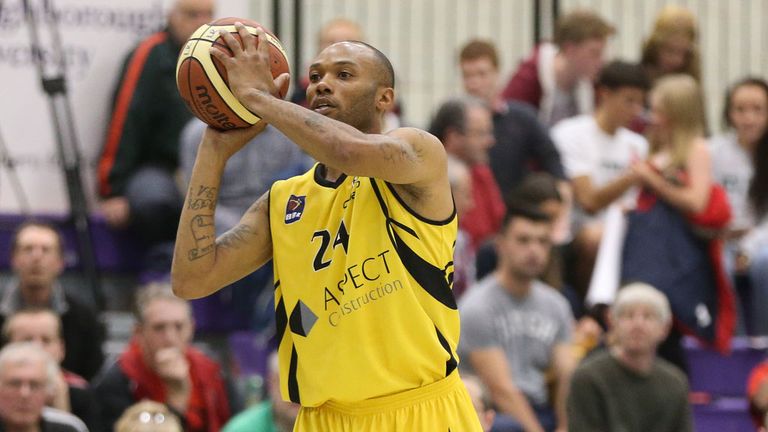 Phoenix started the game strongly, scoring the first 11 points of the contest, with Jerome Gumbs contributing six of the points. Thunder hit back with a 6-0 run shortly after, reducing the Phoenix lead to 15-10 after a Kadiri Richard dunk, but Phoenix pulled hit back, scoring the final five points of the quarter to take a 22-12 lead at its end.
Stuart Thomson's three early in the second started Phoenix on a run of 10 unanswered points before they outscored Thunder 23-6 in the final 8 minutes of the half. Phoenix's Chez Marks had 3 steals as they forced Thunder into turning the ball over 9 times during the run. That run put them ahead 47-23 at half-time.
A 17-2 run in the third allowed Phoenix to further increase their lead, with Alif Bland's basket at the end of the run putting them up 69-28. Brendan Okoronkwo had 3 assists in an 8-2 run by Thunder at the end of the quarter that reduced Phoenix's lead down to 78-43.
After an 8-0 Thunder further reduced the Phoenix lead to 32 points at 84-52 mid-way through the final stanza, Phoenix were able to close the game out with a 16-5 run to wrap up a 106-61 victory.
Phoenix put together a good team performance, making 66% of their field goal attempts and 47% of their 3-point efforts as five of their players scored in double figures. Jerome Gumbs led their scorers with 25 points and also had 11 rebounds as he achieved a double-double.
Phoenix captain Chez Marks ended the game with 23 points, 7 assists, 5 rebounds and 5 steals. Gabe Haskins scored 16 points and also had 9 assists.
For Thunder, their scorers were jointly led by Kadiri Richard and Joe Carter, with 14 points each. Richard also had 9 rebounds and blocked 4 shots.
Phoenix coach Matt Lloyd was pleased with Phoenix's performance, saying after the game: "A thoroughly professional performance from us tonight. All credit to Worthing, they hung in there. For us, it was a case of playing professionally for the full 40 minutes and executing which we did."