NBA review as Kawhi Leonard scores career-high 26 points for San Antonio Spurs
Kawhi Leonard scored a career-high 26 points as the San Antonio Spurs beat the Chicago Bulls 103-89.
Last Updated: 12/02/13 2:26pm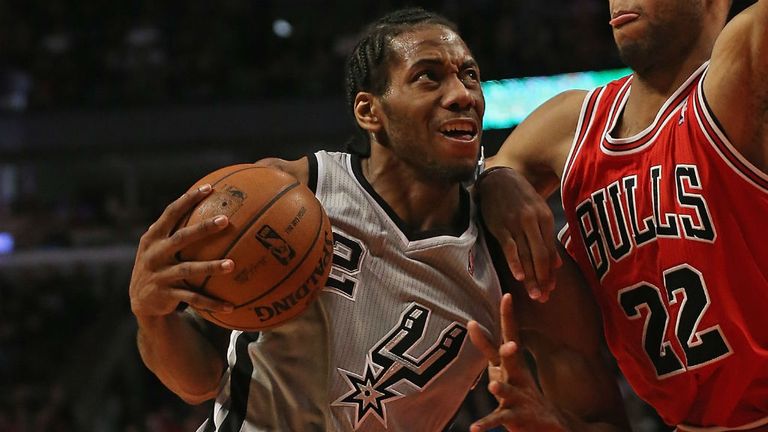 Gary Neal and Tiago Splitter added 16 points apiece to help the Spurs cope without the injured Tony Parker, Manu Ginobili and Tim Duncan. Stephen Jackson was also absent for personal reasons.
The Spurs improved to an NBA-best 41-12.
Byron Mullins had 25 points and 18 rebounds as the struggling Charlotte Bobcats beat the Boston Celtics 94-91 to end their seven-game winning streak.
The Bobcats improved to a league-worst 12-39 with the win - their first in eight - which was helped by 19 points from Ramon Sessions as well as a strong performance from Kemba Walker, who added 16 points, six assists and six rebounds.
Jeff Green scored 18 points for the Celtics, while Kevin Garnett had 16 points and 13 rebounds.
Chris Paul had 21 points and 11 assists to help the Los Angeles Clippers to a 107-90 victory over the Philadelphia 76ers.
Jamal Crawford scored 20 points for the Clippers, who rounded out a difficult road trip in positive fashion with back-to-back wins.
Brook Lopez scored 89 points as the Brooklyn Nets beat the Central-leading Indiana Pacers 89-84 in overtime.
Ryan Anderson poured in 31 points to help the New Orleans Hornets to a 105-86 win over the Detroit Pistons.
Brandon Beal scored 28 points in the Washington Wizards' 102-90 win over the Milwaukee Bucks, Josh Smith had 26 points and 13 rebounds as the Atlanta Hawks beat the Dallas Mavericks 105-101 and the Minnesota Timberwolves overcame the Cleveland Cavaliers 100-92.