NBA rookie Terrence Ross of the Toronto Raptors wins NBA Slam Dunk title
Toronto Raptors guard Terrence Ross captured the NBA Slam Dunk title after dethroning defending champion Jeremy Evans.
Last Updated: 19/02/13 1:20pm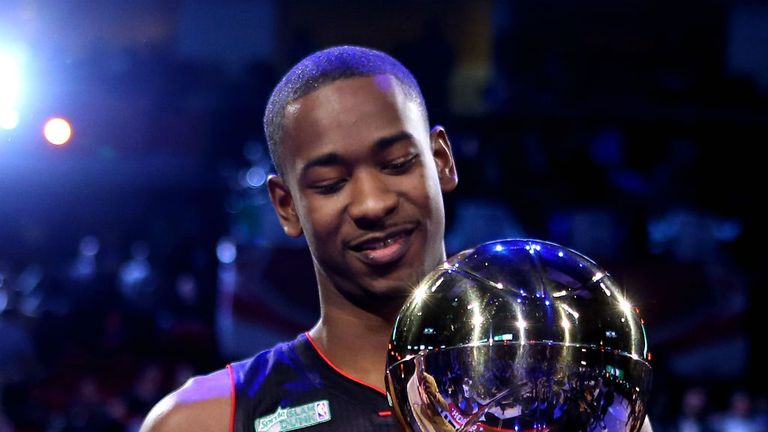 Chinese legend Yao Ming was joined by four other Houston Rockets' legends, Clyde Drexler, Dikembe Mutombo, Hakeem Olajuwon and Rudy Tomjanovich, to judge the competition where the worldwide vote was cast via Twitter and other social media websites.
The 22-year-old rookie won the contest by slamming two spectacular dunks through the rim to win with 58 per cent of the votes.
"It's a dream come true. I feel blessed, but it's still overwhelming," he told reporters. "I'm just trying to soak it all in."
Evans opened with a windmill dunk before Ross answered by making a running start from the side of the hoop, taking a ball bounced off the side of the backboard and catching it then jamming it through the hoop.
Evans slammed in a one-handed dunk on a run from the side in response but Ross finished by leaping over a ballboy, passing the ball between his legs and slamming it into the basket with his right hand which clinched the title.
Other winners in the All-Star festivities ahead of Sunday's NBA All-Star Game were Kyrie Irving of the Cleveland Cavaliers in the Three-Point Contest and Portland Trail Blazers rookie Damian Lillard in the Skills Challenge.