NBA: LeBron James records triple-double as Miami Heat win 10th straight game
The Miami Heat claimed a 10th successive NBA win as they thrashed the Philadelphia 76ers 114-90 at Wells Fargo Center.
Last Updated: 24/02/13 8:40am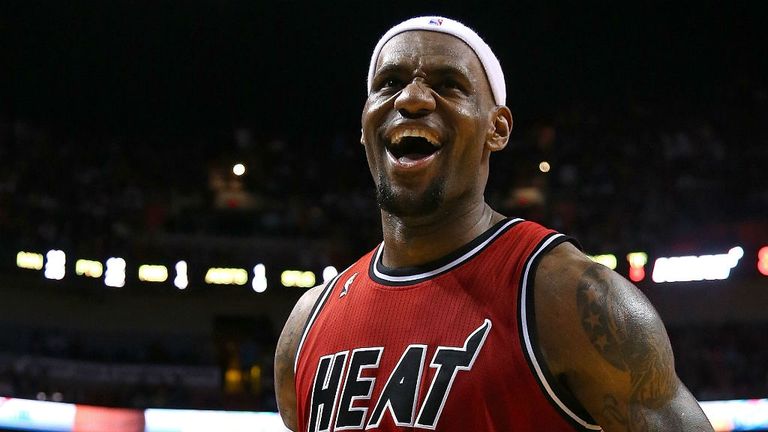 Dwayne Wade scored 33 points while in-form superstar LeBron James compiled the 35th triple-double of his career with 16 points, 10 rebounds and 11 assists.
The Heat improved to 39-14 with the win and the reigning NBA champions now have a five-and-a-half game lead at the top of the Eastern Conference.
Elsewhere on Saturday, the Los Angeles Clippers made it 40 wins for the season as they brushed aside the Utah Jazz 107-94 at the Staples Center.
Caron Butler led with 21 points for the Pacific Division pace-setters as they completed a season sweep over the Jazz.
Central Divison leaders the India Pacers also won, claiming a 90-72 victory over the Detroit Pistons, while Al Horford scored the decisive two-point shot with less than six seconds to play as the Atlanta Hawks squeezed past the Milwaukee Hawks 103-102.
The Denver Nuggers had six players in double figures, led by Ty Lawson's 20, as they cruised to a 113-99 success over the Charlotte Bobcats.
The Cleveland Cavaliers poured in 39 points in the fourth quarter on their way to a 118-94 victory at the Orlando Magic, Marreese Speights topping the scoring charts with 18.
Emeka Okafor picked up a double-double, including the decisive free-throw in the closing seconds, as the Washington Wizards edged the Houston Rockets 105-103.