NBA: Miami Heat leave it late to stun the Orlando Magic
LeBron James landed a lay-up with 3.2 seconds left as the Miami Heat edged out the Orlando Magic 97-96.
Last Updated: 07/03/13 8:25am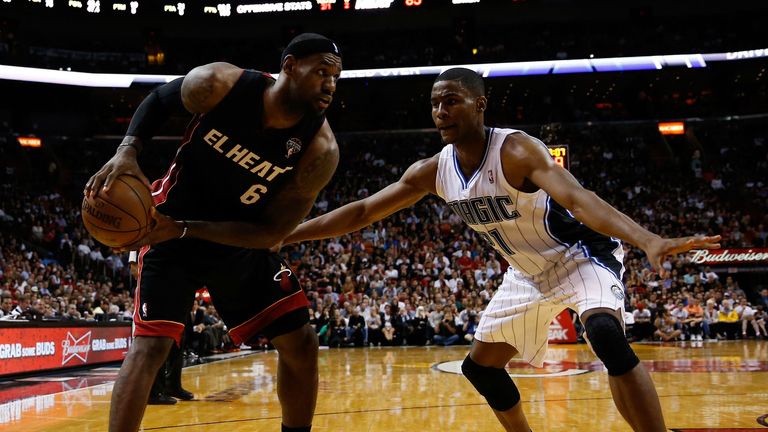 James finished with 26 points in total as the Heat extended their winning streak to 16 games - although they made life hard for themselves.
Miami had been leading by 20 points in the second half before the Magic rallied to move five points clear with Nic Vucevic picking up 25 points and 21 rebounds.
However Dwyane Wade chipped in with 24 points and Chris Bosh added 17 points and 10 rebounds to help the Heat home.
The Boston Celtics came back from 14 points down in the fourth quarter to defeat the Indiana Pacers 83-81.
Kevin Garnett (18 points, 10 rebounds) found Jeff Green all alone under the basket for a lay-up with 0.5 seconds remaining to complete the recovery win.
The Cleveland Cavaliers defeated the Utah Jazz 104-101 despite trailing 100-92 with less than three minutes to go, Kyrie Irving scoring 20 points.
Halted
Brooklyn Nets ended a run of four defeats in five with a 99-78 win over the Charlotte Bobcats, while Jeff Teague scored 27 points for the Atlanta Hawks as they halted a three-game losing streak with a 107-96 win over the Philadelphia 76ers.
New York Knicks pulled away in the fourth quarter to defeat the Detroit Pistons 87-77 with Raymond Felton scoring 26 points for the winners.
Marc Gasol scored 23 points and also had 12 rebounds as the Memphis Grizzlies beat the Portland Trail Blazers 91-85, while Kobe Bryant scored 42 points as the Los Angeles Lakers beat the New Orleans Hornets 108-102.
The Minnesota Timberwolves ended a six-game losing run with an 87-82 win against the Washington Wizards, while Dallas Mavericks were 112-108 winners over Houston Rockets.
The San Antonio Spurs beat the Chicago Bulls 101-83, Toronto Raptors triumphed 98-71 over the Phoenix Suns, the Los Angeles Clippers beat the Milwaukee Bucks 117-101 and the Golden State Warriors defeated the Sacramento Kings 87-83.