NBA: Miami Heat booked their place in the play-offs
The Miami Heat made it 17 straight wins and clinched a play-off spot with a 102-93 victory over the Philadelphia 76ers.
Last Updated: 09/03/13 11:57am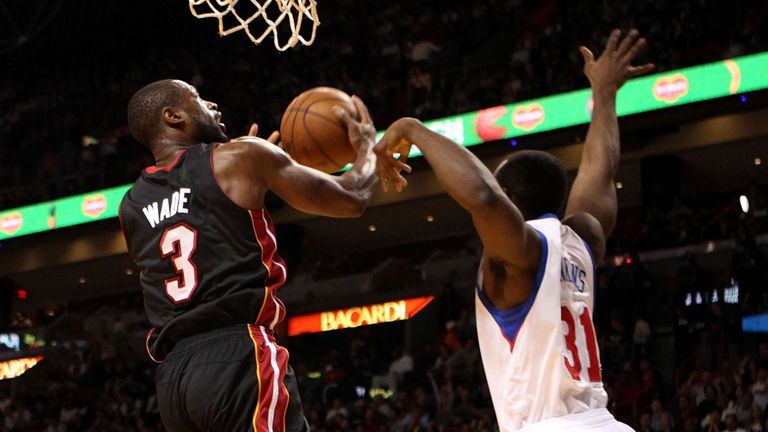 LeBron James and Dwyane Wade were once again the key men for the Heat the scored 25 and 22 points respectively.
Thaddeus Young scored 25 points for the 76ers who lost their 12th straight on the road and 13th straight regular-season game against Miami.
The Brooklyn Nets defeated the Washington Wizards 95-78 as Deron Williams made an NBA-record nine three-pointers in the first half and finished with 11, scoring a season-high 42 points.
Williams made his first eight shots behind the arc, became the first player in a decade to match the opposing team's score in the first half and was one shy of the NBA record of 12 three-pointers.
The Oklahoma City Thunder beat the Charlotte Bobcats 116-94 with Kevin Durant scoring 19 points and also making seven assists.
The Indiana Pacers enjoyed a big first half on their way to a 115-86 win over the Orlando Magic as Paul George scored 25 points and Tyler Hansbrough 18.
Blowing
Marc Gasol scored 22 points as the Memphis Grizzlies held off a late run to win 103-92 against the Cleveland Cavaliers.
The Dallas Mavericks won 102-99 against the Detroit Pistons as OJ Mayo scored 22 points, with Detroit's Charlie Villanueva missing a three-pointer in the final seconds.
Marco Belinelli made a three-pointer with 5.9 seconds left to steer the Chicago Bulls to an 89-88 win over the Utah Jazz.
The Portland Trail Blazers won 136-106 against the San Antonio Spurs as Damian Lillard scored 35 points and had nine assists.
Jason Terry hit a tiebreaking three-pointer with 35 seconds left in overtime for the Boston Celtics who rallied after blowing a big lead in regulation to beat the Atlanta Hawks 107-102.
The Sacramento Kings beat the Phoenix Suns 121-112, the Houston Rockets were 94-88 winners over the Golden State Warriors and the Los Angeles Lakers beat the Toronto Raptors 118-116 in overtime.