NBA: Los Angeles Lakers ace Dwight Howard scores 39 points to see off the Orlando Magic
Dwight Howard had the last laugh as the Los Angeles Lakers toppled the Orlando Magic 106-97.
Last Updated: 13/03/13 6:33am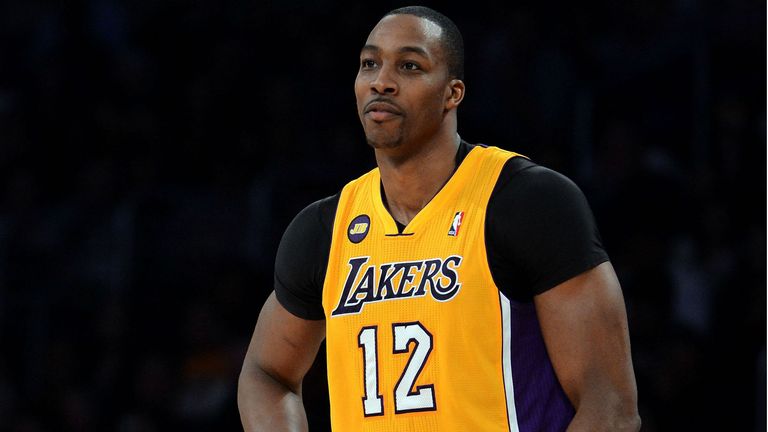 Howard was booed throughout by the Orlando natives after he moved from the Magic to the Lakers in the summer.
However he landed 39 points and 16 rebounds - with Howard handed an NBA record-equalling 39 free throw attempts.
The Miami Heat extended their winning streak to 19 games with a 98-81 win over the Atlanta Hawks.
Dwyane Wade led the way with 23 points while LeBron James added 15 - with the Heat attempting to become the fourth team in NBA history to win 20 consecutive games in a season.
Struggled
Ricky Rubio bagged a triple-double for the first time in his career to help the Minnesota Timberwolves beat the Western Conference-leading San Antonio Spurs 107-83.
Rubio registered 21 points, 13 rebounds and 12 assists, while JJ Barea added 17 points as the Spurs struggled in the absence of Tony Parker (ankle), Tim Duncan and Kawhi Leonard (both knee).
Vince Carter scored 23 points despite starting on the bench to help the Dallas Mavericks to a 115-108 win over the Milwaukee Bucks. Monta Ellis led the Bucks with 32 points.
Gerald Henderson poured in 35 points to help the Charlotte Bobcats to their first win in 11, 100-74 over the Boston Celtics.
Brook Lopez scored 26 points as the Brooklyn Nets beat the New Orleans Hornets 108-98, the Cleveland Cavaliers beat the Washington Wizards 95-90 and the Memphis Grizzlies saw off the Portland Trail Blazers 102-97.