NBA: Miami Heat emulate the Milwaukee Bucks, the LA Lakers and the Houston Rockets
The Heat toppled the 76ers 98-94 to became the fourth team in NBA history to win 20 successive games in one season.
Last Updated: 14/03/13 6:38am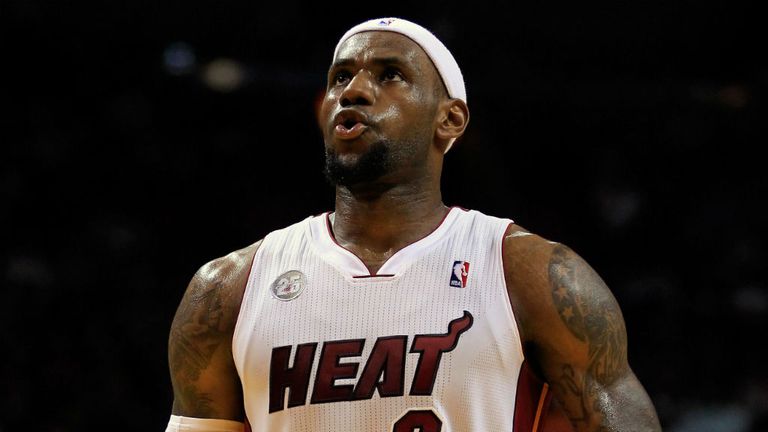 LeBron James scored 27 points and Dwyane Wade 21 as the Heat emulated the Milwaukee Bucks (1970-71), the Los Angeles Lakers (1971-72) and the Houston Rockets (2007-08).
Thaddeus Young kept the 76ers in the contest with 24 points and 15 rebounds.
The Denver Nuggets extended their own winning run to 10 with a 117-94 triumph over the New York Knicks.
Wilson Chandler led the Nuggets with 24 points, while Carmelo Anthony managed just nine on his return to Denver before leaving the game with an injury.
Overwhelmed
The Boston Celtics also registered their 10th straight home win as Jeff Green's 20 points helped them see off the Toronto Raptors 112-88.
Kevin Durant scored 23 points to lead the Oklahoma City Thunder to a 110-87 victory over the Utah Jazz, while Roy Hibbert led the Indiana Pacers to a 107-91 win over Minnesota Timberwolves with 27 points and 12 rebounds.
Stephen Curry scored 31 points in the Golden State Warriors' 105-97 win over the Detroit Pistons, the Washington Wizards beat the Milwaukee Bucks 106-93 and the Houston Rockets triumphed 111-81 over the Phoenix Suns.
The Memphis Grizzlies were 96-85 winners over the Los Angeles Clippers, the Sacramento Kings overwhelmed the Chicago Bulls 121-79 and the Atlanta Hawks edged out the Los Angeles Lakers 96-92.